Charge d'Affaires Fidel Coloma: Azerbaijan - bridge for Chile to access to wider region [INTERVIEW]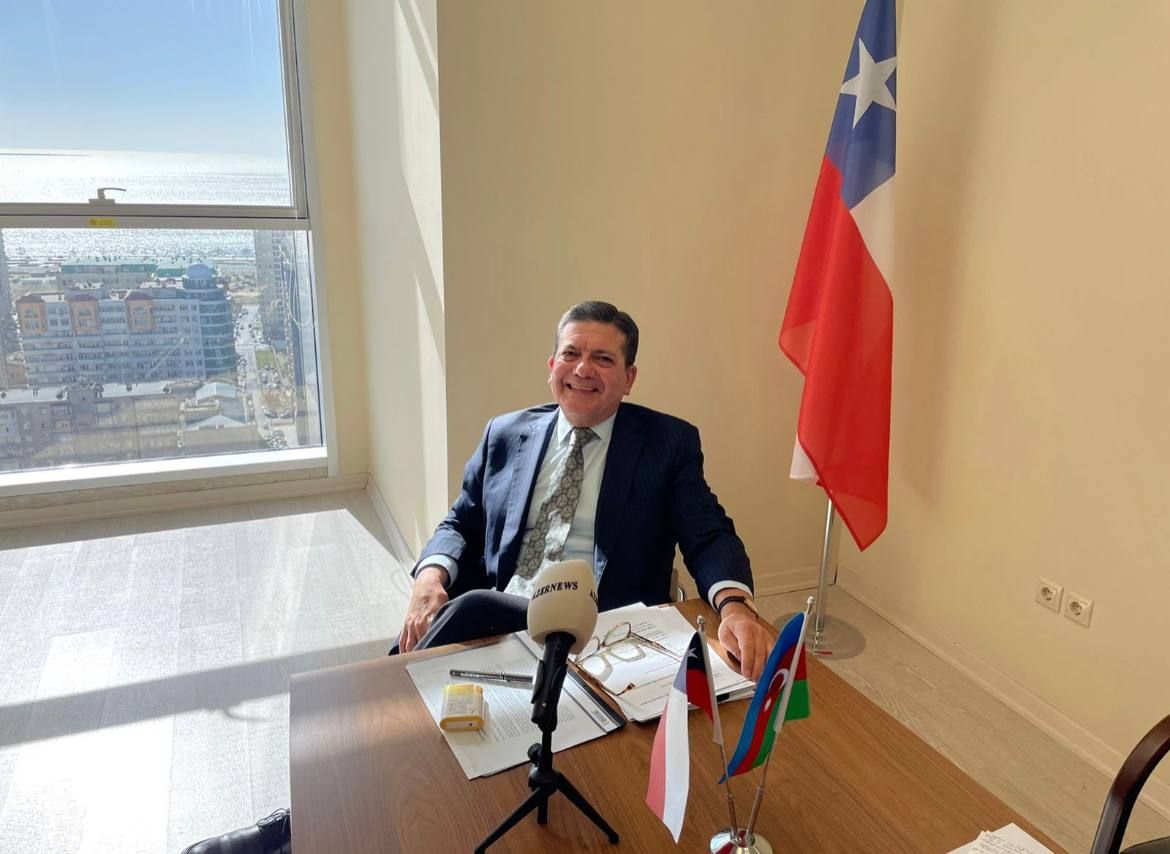 In an exclusive interview with Azernews' first deputy editor-in-chief Fuad Muxtar-Aqbabali from his spacious office on the capital's tallest skyscraper, Chilean Charge d'Affaires Fidel Coloma proved to be both a good company and a skillful diplomat with tact.
Azerbaijan venue for Chile to get access to the region
Q: Mr. Fidel Coloma, Chilean Charge d'Affaires to Azerbaijan, thank you very much for your consent to do this interview with Azernews – the nation's first English language newspaper that covers major national, regional, and worldwide developments. Let's talk about Chile, a nation geographically far away from Azerbaijan with diplomatic representation in Baku, which is very important for both nations. What is your take on this?
A: Well, first, thank you for the interview. I think you are right. Chile is geographically far away from Azerbaijan. For example, it takes almost a day and a half by plane to get to Chile from Azerbaijan.
As for Chile's decision to have a diplomatic representation in Baku, this is conducive to Chile's 40-year-long drive for open doors policy for the world. With this in mind, Chile has gone open to all regions of the world with diplomatic representations worldwide.
Moreover, one of the regions, where we did not have any representation, was the South Caucasus, and we have chosen Azerbaijan as the first nation in this region to open our first diplomatic office in Azerbaijan, actually for the Central Asia region. So, Azerbaijan is like our point for further development towards other countries across the Caspian Sea for wider relations.
Q: What are the major objectives of your diplomatic representation in Azerbaijan and for the whole South Caucasus? What are the issues on your agenda right now?
A: The major objective is a long-term one. We have already had excellent relations established with Azerbaijan. This diplomatic representation was opened three years ago, and over these three years, I am very happy to say that we have had very solid, excellent relations with Azerbaijan.
Azerbaijan is working very hard to become a country that links itself with infrastructure, and highway infrastructure to become a corridor between the east and the west. So, that's very attractive for us. We are a country, as I said, very open to commerce, very open and determined to reach different destinations. Azerbaijan presents itself as an ideal country, and as I said, this is a long effort. We want to take good use of these development opportunities that Azerbaijan is undertaking, and together be able to expand Chile's presence in the region, where, to be sincere, we are not very well known.
At the same time, Azerbaijan is also opening itself to the world more and more. Now, it is displaying much interest in Latin America, not only in Chile but also in other countries with embassies there. It has started to deepen relations with that region of the world - the Latin American region and Latin American countries.
Q: Chile is not often in the news. As a newsman with over 30 years in the sector, I rarely see media coverage of developments in Chile. We often hear when some negative issues take place. With this in mind, what would be as the Charge d'Affaires of Chile your recommendations to modify the current state of affairs to have frequent coverage of developments in the national media of the two nations to be conducive to better recognition of both Azerbaijan and Chile?
A: Well, I think Chile is very well-known in the world for its open market policy and the benefits that this open market has brought to the country. That has established us as one of the main exporters in the world of several products, additionally to what we have historically exported. Chile has been the number one exporter of copper in the world. But we are also among the first exporters of salmon, wines, fruits, wood, etc. We will begin to provide lithium to the world. So, there has been a diversification over the recent decades.
Chile is well-known for receiving international investment due to the fact that our country is like a platform to commercialize products to and from the Pacific countries. Chile has more than 4,000 km of seashore facing the Pacific Ocean. Our alliances with the Pacific countries are very close. We are united with all the other countries of the Pacific Rim through several multilateral mechanisms.
Q: Browsing the web, I came across a report about your meeting approximately two years or more ago with the chairman of the Azartac news agency, where you spoke about building media relations between the two countries. I wonder, have you achieved any progress on that so far?
A: Well, we tried, we had items published both in the Azerbaijani and Chilean media outlets. Basically, media outlets take reports about worldwide developments from foreign news agencies, like Reuters or Xinhua, or whatever.
So, what I can assure you is that whatever relevant happens in Azerbaijan appears in the Chilean media, and sometimes, it's very surprising. Other issues are also interesting, sometimes, the Azerbaijani ambassador sends letters to Chilean newspapers, the main newspapers, regarding different issues, and they are published. In that sense, I would say that the media is open for any country, not only Azerbaijan, for any country to receive whatever the news or whatever the event is if it's a major event to be published in Chile.
Azerbaijan's NAM chairmanship
Q: Let's talk about the Non-Aligned Movement (NAM), and I believe this is also a platform for cooperation between Chile and Azerbaijan. So when did your country join NAM, and what is your take on Azerbaijan's chairmanship of NAM? In March 2023, NAM is going to arrange a big event conference in Azerbaijan, and what would you like to tell our readers to this effect?
A: The first thing I would like to say is that in my career, I have been linked with the NAM since 1991. I have a long experience in taking care of and negotiating within the framework of NAM with member countries. Chile became a member of NAM in 1973, and since then, we're an active and full member, and we have developed relations with many countries, and we participated in all summits and cooperated with all the chair nations.
As for your question, I must say very sincerely that we're very happy with the chairmanship of Azerbaijan. We think that Azerbaijan has developed a significant chairmanship over the last two years, and Azerbaijan was requested to remain as the chairman for another additional year. That's because of the seriousness that Azerbaijan has given to this chairmanship and all the initiatives that they have been able to bring to fruition, which is very positive for the future of the NAM. Now, NAM has been a driving engine and an instrument for our bilateral relations with Azerbaijan, definitely, we cooperate together with Azerbaijan on this issue.
Azerbaijan held meetings in Baku in November 2019, when they picked up the chairmanship. But then they had two more meetings. They had a meeting, an inter-parliamentary meeting last year and then they had a youth meeting in 2022. Well, people from Chile, from the parliamentary inter-parliamentary group came to the meetings. The delegation was headed by the president of the group of the Friends of Chile and Azerbaijan in the Chilean parliament. They were able to establish links and dialog with a group of friends of Azerbaijanis in the Azerbaijani parliament.
So, they did not come only to NAM events, but also managed to establish contacts at the level of parliaments and be instrumental in establishing programs of cooperation that have been very successful. For instance, MP Azar Badamov, the chairman of the Chilean-Azerbaijani parliamentary group, visited Chile in January 2023. He received an invitation from the Chilean parliament and was in Chile to further deepen the relations. As you see, the process is underway and we have now a bilateral and inter-parliamentary group. It is both multilateral and bilateral and Azar Badamov was received by the head of the Senate and the head of the Deputies Chamber. So, that's a good example of how the NAM can be conducive to our cooperation. The same goes for the youth. The youth was another initiative of Azerbaijan to create under NAM.
Q: Speaking about the youth, I heard you had a meeting with a group of young people several days ago. What made you want to meet young people?
A: Well, Chile favors the youth in our country, and we were present here, in Baku, with a Chilean youth delegation when the NAM Youth Summit was held in Baku. So from then on, again, the idea is to establish links between the youth organizations of NAM countries. Azerbaijani and Chilean young people cooperate in different areas of interest for the youth.
One of the reasons behind the meeting was their request to know a little bit more about Chile. A group of 40-50 young people from Azerbaijan's NAM youth organization came and we made a presentation about Chile and the nature of friendship that exists between Chile and Azerbaijan. I think it was very constructive and productive and I informed the government of Chile about it. I promised them that there would be a follow-up so that these links become stronger in the future.
Swap of students on the agenda
Q: Speaking about inter-youth cooperation, do you have any plans, for example, education targeting young people from both countries? Any plans to exchange students? As part of NAM, Azerbaijan has been providing scholarships for Africans wishing to study in Azerbaijan. Do you have similar plans?
Q: We definitely have plans of establishing contacts between universities of Chile and Azerbaijan. We are in an advanced conversation with a couple of universities. A university delegation from Chile last year visited with concrete plans of what you are saying - the exchange of students, bringing students here. Initially, we already had one Chilean student that studied in an Azerbaijani University for some years.
As you can see, there have been some links already. But of course, this has to be improved, we have to enlarge this and we are willing and expecting maybe, this year a high-level delegation to visit Chile from Azerbaijan to further deepen relations between our governments.
Q: Mr. Fidel Coloma, as a follow-up, let me switch to the cultural sphere. We know the culture as a whole and literature, cinema, and music as separate components play a huge role in bringing nations closer. Chilean culture with separate components keeps a low profile in this part of the hemisphere. Would you like to be a bridge, let's say, between the culture ministries of the two nations to narrow this gap and accelerate the relations?
A: Well, we have had meetings with the culture minister, and there are plans to bring some cultural events from Chile to Azerbaijan in 2023.
We have a famous poet Pablo Neruda, a Nobel Prize winner, and he was already published in Azerbaijan. I was happily surprised to learn that two books by Pablo Neruda were printed. Of course, the idea is to improve this and to bring more and to take culture from Azerbaijan to Chile, and to make Azerbaijan more well-known in Chile.
We are working on it. We are working with other countries in Latin America on the possibility of organizing as in other parts of the world, establishing a week of Latin American cinema in Azerbaijan in which, of course, Chile would be part of it. So, yes, definitely that culture is something that always brings together nations and brings together people, which is the most important.
Chile in the grip of wildfires
Q: Let me ask you about wildfires. Regretfully, Chile is hit by wildfires and there are reports about victims, and thousands of hectares of areas have been burnt down. What is the reason behind such huge wildfires?
A: Well, what I would like to really underline is that this is a tremendous tragedy; this is a huge human and ecological tragedy, not only for Chile but for the world. This is the first time in our history when we have been hitting by such a ferocious calamity. 25 people have died and at least 430 thousand hectares of forest have been burnt.
The south of Chile is full of forests. Chile is a very long country, perhaps one of the longest countries in the world. So we have different types of climates. The south of Chile is full of forests. Normally, there have been fires, but of course, not all forest fires were of this magnitude that we have been confronted with this time. As I said, this is something that we have never seen before. And the conclusion is that the whole planet is starting to, unfortunately, experience the effects of climate change.
So, over the past years, there has been very little rain in areas in the south of Chile where normal rain was abundant. That's why we had so much forest and so much vegetation. But last year, there was a drought in the south. That's one element. Now, what brings drought to the south of Chile, which has never been registered earlier? The only explanation is the climate change around the world.
We are also being hit by temperatures that were simply never seen before. That is 40-42-43 degrees of temperature in areas where normally in summer it is 20 degrees. First, there have been droughts and no water. Second, high temperatures started to hit those areas that had never been hit before. And the third element was the wind. Yes, normally in the south, south of Chile, in the tip of Chile, it's very windy, but not so windy in the mid-south where the forest fires are occurring. So, those three elements combined together brought just a single spark and confronted us with one of the majors or the major fire that has ever hit Chile.
Over 1,000 foreign volunteers joined the Chilean firefighters to extinguish the wildfires. It is really a tragedy for Mother Nature, a tragedy for ecology, and a tragedy for the green areas of the world. Luckily, we're starting, we are beginning to see the end, not really getting to the end, but we have already managed to bring the wildfires under control.
There are still some fires going on. Experts say that it will take us to mid-March. Imagine mid-March all this time, one month and a half it will take us to extinguish the whole thing and to leave it. That's what I can tell you about the fire. We have to learn a lot of lessons from this and as I said, I thank the international community for their help.
Editor's note: At the end of the interview, the Charge d'Affaires once again credited the relations as excellent, adding that they are working together with the Azerbaijani government to deepen the relations politically, economically, and commercially.
"This is a long-term goal. This is not something that's going to happen today or tomorrow. We have a lot to cover. But the will, the political will is there and I see only positive developments coming in the future in the relationship between Azerbaijan and Chile," Charge d'Affaires Fidel Coloma added.
---
Follow us on Twitter @AzerNewsAz