26 April 2021 12:24 (UTC+04:00)
1 175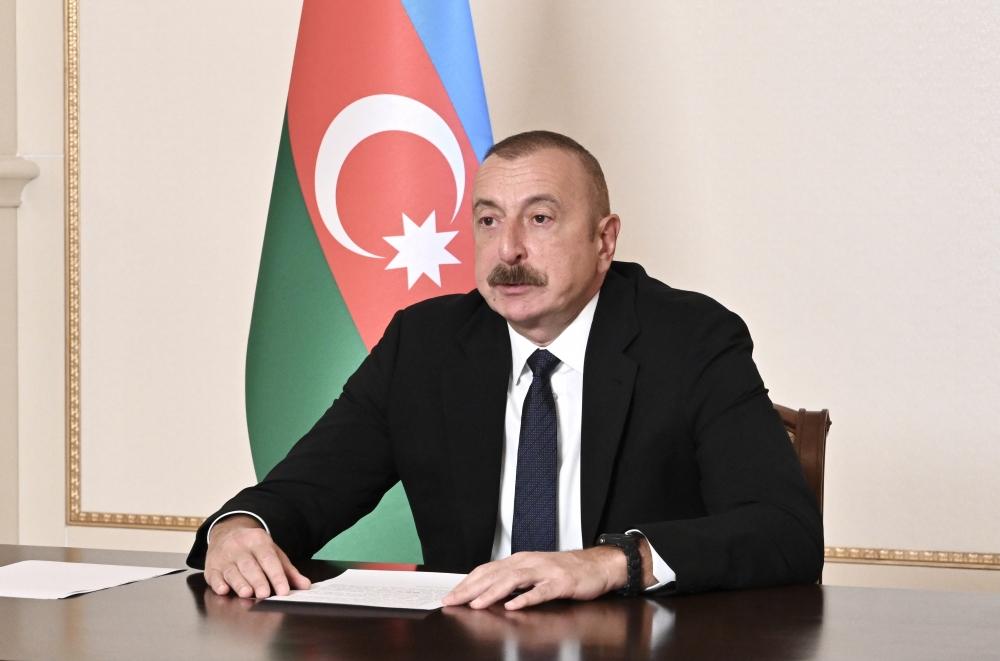 By Aisha Jabbarova
President Ilham Aliyev has said that Azerbaijan seeks to maintain sustainable peace and security in the region.
Aliyev made the remarks while addressing the UN 77th session of Economic and Social Commission for Asia and the Pacific presented in a video format on April 26.
The president spoke about Azerbaijan's contribution to the launch of regional connectivity projects such as East-West, North-South, North-West transportation corridors.
Speaking about the Zangazur corridor that will connect Azerbaijan proper with its Nakhchivan exclave through the territory of Armenia, Aliyev said:
"We are now working on the realization of "Zangazur transportation corridor", which will be an integral part of the East-West corridor connecting Asia and Europe through Azerbaijan. This corridor will allow Azerbaijan to strengthen its position as Eurasia's transport and logistic hub. I invite partner countries from Asia and the Pacific to consider the potential of this regional project."
The creation of the Zangazur corridor has been stipulated by the November 10 trilateral peace deal that urges unblocking of economic and transport communications in the region that had remained closed for around 30 years due to Armenia's occupation of Azerbaijani lands.
Fight against COVID-19
Commenting on Azerbaijan's role in global fight against COVID-19, Aliyev said that his country is on the forefront of the efforts to mobilize global action against pandemic.
"As a chair of the Non-Aligned Movement, Azerbaijan initiated and successfully held the NAM Summit in response to coronavirus in May 2020. The Special Session of the UN General Assembly at the level of the heads of state and government was held on our initiative last December," Aliyev said.
He highlighted that the government launched vaccination campaign since January with close to 1, 4 million vaccine doses being already used, which constitutes 14 % of Azerbaijan's total population.
Aliyev also touched upon unfair distribution of vaccines, whereby over 30 rich countries ordered 53 % of the world's supply of vaccines, dubbing it "vaccine nationalism".
--
Follow us on Twitter @AzerNewsAz
Related News