Ingots, coins to be produced from Azerbaijani gold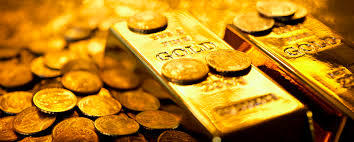 By Naila Huseynli
AzerGold CJSC has started the project on production of coins and ingot from gold and silver in Azerbaijan.
The company stated that the preparation of ingots and coins are executed on the basis of AzerGold's development strategy, Azertag reported.
The project sets goal to promote the country as a gold producer in the domestic and international markets. Along with the promotion of Made in Azerbaijan brand, it also aims to provide support to local entrepreneurship entities, and develop domestic market.
Production of 999.9 carat ingots and coins and presenting under the Azergold brand will give impetus to increase product range in the local market and the development of favorable economic relations. Gold and silver coins without nominal value, as well as gold ingots will be in three dimensions, such as, 5, 10 and 20 grams.
At the initial stage of production, gold and silver coins are planned to be produced in three different designs mainly Heydar Aliyev Center, Gobustan and Garabagh carpet pattern Chalabi.
Azerbaijan, a country with reach mineral resources, started industrial production of gold in July 2009. About 900 fields were registered in Azerbaijan's state and territorial balance of reserves of mineral resources. The Ministry for Ecology and Natural Recourses estimates that the country is able to produce about 10-15 tons of gold per year.
AzerGold CJSC, established in 2015, started its activity in July 2016, and is engaged in studying, research, investigation, management of deposits of precious and nonferrous metals, their production, processing and sale, and also application of new technologies in this sphere, improvement of material and technical base and implementation of other works related to development of this area.
The company uses new technologies in exploration, development and management of non-ferrous metal deposits, modernization of the material and technical sources and their effective use, as well as other work for developing this sphere.
---
Follow us on Twitter @AzerNewsAz