20 April 2018 17:11 (UTC+04:00)
2 844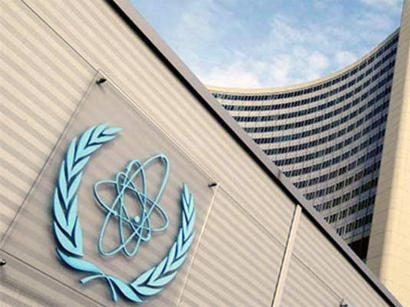 By Trend
A sterilization unit installed at Azerbaijan's National Nuclear Research Center CJSC was highly appreciated by the International Atomic Energy Agency (IAEA), the Center's Chairman Adil Garibov told Trend on April 20.
Garibov said that the project was presented to Director General of the IAEA Yukiya Amano, who visited the center a day before and in detail familiarized with the Center's activities.
Representatives of the Transport, Communications and High Technologies Ministry, the Emergency Situations Ministry and the Foreign Ministry of Azerbaijan attended a meeting held with Amano at the Center.
"Amano discussed business issues and issues of mutual interest. He stressed importance and fruitfulness of the meeting with participation of all parties. The meeting was not difficult for us, since Azerbaijan's strategic relations with the IAEA and issues of further cooperation between the parties were discussed earlier, and we knew in what framework the meeting will be held," Garibov said.
The IAEA director general thoroughly acquainted himself with the Center's activities, laboratories and stages of the projects implemented jointly by the Center and the IAEA.
"One of the joint projects realized with the IAEA is the project on expansion of radiation technologies in Azerbaijan. The matter is creation of a gamma-radiation sterilization center in the country. During the meeting, this project was presented in detail to the IAEA management. Amano familiarized with the Center's activity and professionalism of the Center's specialists. Amano said that this all exceeded his expectations, and he was pleased with the Center's activities in this area. Amano noted that he will make all necessary efforts to ensure that the necessary isotopes for the facility's operation are delivered to Azerbaijan," Garibov said.
In mid-2017, the Azerbaijani government gave special permission for the import of isotopes into the country. Under an approved road map, a part of isotopes will be delivered from Hungary, the other part from Russia. It will take about three weeks to load the isotopes into the installation, after which it will be commissioned.
The sterilizer installation, a laboratory and all necessary infrastructure are fully ready for operation. The facility is located in the village of Gobu (20 kilometers from Baku) at the Nuclear Research Center.
The sterilizer installation allows applying gamma radiation to kill microbes increasing the storage time of agricultural products as well as medicines.
--
Follow us on Twitter @AzerNewsAz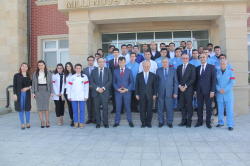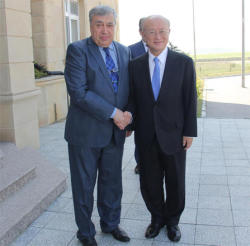 Related News