Road freight traffic from Kazakhstan to Azerbaijan to grow, minister says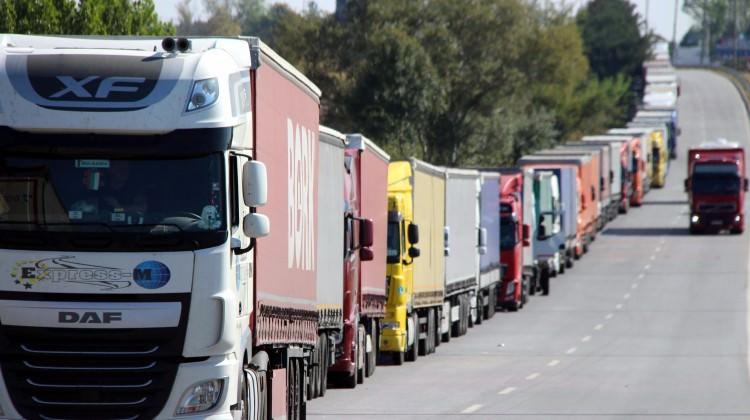 By Aygul Salmanova
Kazakhstan's Parliament approved the ratification of the agreement with Azerbaijan on international road transport.
Road freight traffic flow from Kazakhstan to Azerbaijan will grow significantly, Kazakh Minister of Investments and Development Zhenis Kassymbek said commenting on the news, the Central Asian country's media outlets reported.
"This agreement is aimed not only at development of bilateral transportation between Kazakhstan and Azerbaijan," Kassymbek said. "We have observed great increase in transit transportation via Azerbaijan by road in the direction of Georgia and Turkey in the last two or three years."
He said that considering favorable geographic location of Kazakhstan, the work is actively being carried out to develop the country's transit potential and attract cargo flows in order to create a large logistics hub in Central Asia.
"So far, agreements on road transportation have been signed with 41 foreign countries, and this work continues," he noted. "In 2016, the volume of cargo transportation by road between Kazakhstan and Azerbaijan grew 16 percent. The agreement submitted for ratification establishes legal norms for road transportation between the two countries, regulates the types of road transportation and the procedure for establishing quotas for the exchange of permission forms."
The implementation of the agreement will also contribute to the further development of road transportation between the two countries and the development of Kazakh-Azerbaijani trade and economic cooperation, he said.
"Ratification of the agreement won't entail additional budgetary allocations," the minister added.
Diplomatic relations between the two countries were established in August, 1992. Both countries are full members of the Commonwealth of Independent States (CIS), Turkic Council, Joint Administration of Turkic Arts and Culture, Organization of Islamic Cooperation and the Organization for Security and Co-operation in Europe (OSCE).
The two countries have already signed over 100 agreements, which constitute legal basis for negotiations between the countries. More than 20 of those are in the field of economy.
Both Kazakhstan and Azerbaijan attach great importance to the development of bilateral trade and economic ties. There is a successfully operating Intergovernmental Commission, and business forums are held regularly.
For Azerbaijan and Kazakhstan the most important points of cooperation appear to be the contacts on energy issues, oil transportation, agriculture, and the use of the Caspian Sea as an important international traffic artery.
Now the two countries are working on promotion of a joint transport project - the Trans-Caspian International Transport Route (TITR), which involves cargo transportation from China via Kazakhstan, Azerbaijan, Georgia and further via Turkey and Ukraine to Europe.
The trade turnover between the countries increased by 3.7 percent and amounted to $102.5 million over the three quarters of this year.
In particular, export from Azerbaijan increased by 7.3 percent and amounted to $21.8 million, while import from Kazakhstan increased by 2.7 percent and amounted to $80.7 million.
In 2017, the number of vehicles transported between Azerbaijan and Kazakhstan amounted to 9,744.
--
Follow us on Twitter @AzerNewsAz