24 August 2015 09:00 (UTC+04:00)
2 326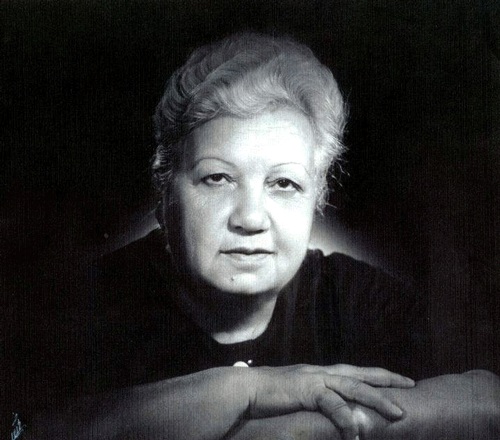 By Laman Sadigova
A female sculptor is a rare phenomenon not only for eastern countries, but even for Europe.
A cheerful girl, Minavvar Rzayeva lived in sunny Azerbaijan and had two favorite hobbies; she loved modeling figures from clay and running various distances; two totally different interests that characterized her as a versatile and talented person.
Rzayeva belonged to the bloodline of the Karabakh khanate's founder, Panahali Khan. She was born in Shusha in 1929. Her mother, educated at a girls' school, was a housewife and her father was a recognized expert on carpets.
When the time to came to choose a future career, a curious thing happened to Minavvar and this "mistake" completely laid out her future and helped her to make an important decision.
Minavvar decided to attend the faculty of arts and crafts, but when first year students were presented with the opportunity to switch into the sculpture curriculum, she immediately raised her hand as she misheard the teacher call for switching into the sports curriculum.
Many years later, she would laugh and describe how a big plaster cast of feet was put next to her and she was told to make a copy of it for the first time. Rzayeva, a young girl who thought that she was taking exams to enter sports, gleefully exclaimed, "The owner of the feet must be a very great man if we have to do a copy of it."
She coped with the task successfully and was taken in by the sculptural department. When everything cleared up, it was impossible to change her field and the sculpture faculty became her winning card. So, the most important decision in her life was chosen by fate.
Minavvar's talent came to develop rapidly after she entered the faculty. Her parents were nervous about their daughter whose hands were always smeared with clay, but would calm after seeing the creations formed by her talented hands.
After having graduated from the Azerbaijan Art School, the young sculptor went on to the Surikov Institute of the USSR Academy of Arts in Moscow.
Minavvar Rzayeva skills kept on improving as evidenced by newspaper and magazines clippings about her career found in her family's archives.
When the artist returned to Baku, she was a developed master of sculpture with her own artistic style and ambitious future plans.
The talented sculptor's repertoire included about hundred sculptural portraits of prominent figures of Azerbaijani people. She paid particular attention to the smallest details.
To create a masterpiece, Minavvar would try to become close to her subjects, talk to them, and understand their characters and souls.
Later, her daughter Zemfira said of the artist, "My mother never started a work without a thorough and long preliminary preparation. It meant that she studied the biography of her hero, trying to understand the soul, highlight main features of the personailty, and it made her works so special."
Minavvar Rzayeva left a rich legacy in 18 cities and regional centers of Azerbaijan, as well as in museums and exhibition halls. She was creating art almost until the end of her life. Only two years before her death she was forced to stop sculpturing as her vision had been worsening.
She passed away on the day of her 75th birthday but her art begs for her to not be forgotten.
---
Follow Laman Sadigova on Twitter: @s_laman93
Follow us on Twitter @AzerNewsAz
Related News