Hungary to shoot film about Nagorno-Karabakh war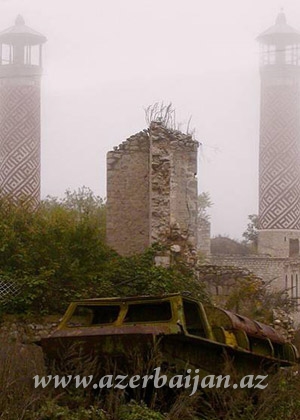 By Nazrin Gadimova
A delegation of Hungarian journalists from Information and Communication Fund visited Azerbaijan's Tartar district to prepare for shooting a film about the Karabakh war.
The journalists held meetings with IDPs who have been prepared at training centers of the International Eurasian Press-Fund, the local media reported.
During the meeting, the guests were informed about the atrocities committed by Armenian troops.
The film will tell the truth to the world about Karabakh. Currently, the journalists are choosing settings for shooting the film. They plan to visit Azerbaijan again in near future.
The Nagorno Karabakh conflict became one of the most tragic conflicts in the history of 20th century and affected the destiny of millions of people. Late into the night of February 25, 1992, the town of Khojaly, situated within the administrative borders of the Nagorno-Karabakh region of Azerbaijan, came under intensive fire from the towns of Khankendi and Askeran already occupied by Armenian armed forces.
The Armenian forces, supported by the ex-Soviet 366th regiment, completed the surrounding of the town already isolated due to ethnic cleansing of the Azerbaijani population of the neighboring regions. The joint forces occupied the town, which was ruined by heavy artillery shelling
Armenian aggression became a tragedy for the Azerbaijani people. Only Khojaly incident claimed the lives of 613 civilians, including 106 women, 70 elderly, and 83 children.
On a cold winter night thousands of people were forced to abandon everything and flee from the brutal invaders who attacked civilians without warning. People run into the forest, but not many of them managed to get out, since most of them froze to death right in the forest. Children, women, and old men fell victim to the violence and only a few of them were able to escape the massacre.
Over 20 percent of Azerbaijan's internationally recognized territory, including Nagorno-Karabakh and seven adjacent regions, are occupied by Armenia. Over 20,000 Azerbaijanis were killed, almost 100,000 were injured, and 50,000 were disabled in the conflict. Some 4,866 are also reported missing.