Azerbaijani parliamentary delegation visits Paraguay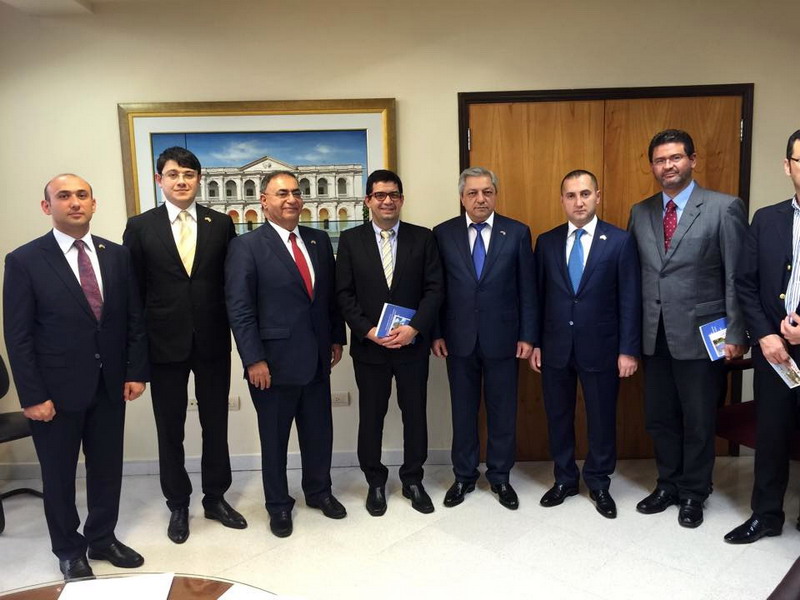 By Amina Nazarli
A delegation of Azerbaijani Parliament, including MPs Avanshir Feyziyev, Asim Mollazade, Fuad Muradov and Aslan Jafarov visited the Paraguayan Congress to broaden bilateral ties.
The delegation met with Enrique Bacchetta (ANR) who replaces Paraguay's Senator, Head of the Paraguayan Senate's Foreign Relations Commission, Miguel Saguier, as well as members of Azerbaijani-Paraguayan Inter-parliamentary Friendship Group, Chamber of Deputies President Hugo Velazquez, Chairman of Foreign Affairs Committee of the Chamber Jose Maria Ibanez.
"It's a historic visit for our country," Muradov said at the meeting.
"Azerbaijan's economy is rapidly growing and it is one of the major energy suppliers to the European Union," Muradov stressed, adding that he hoped the visit would serve to generate new business opportunities with Paraguay.
"We have much in common though our countries are far away," he said, after being received by Paraguayan senators in the Congress at Asuncion.
During the meeting, the sides noted Azerbaijani-Paraguayan parliamentary cooperation would contribute to developing relations in political, economic and humanitarian fields. The sides also discussed expanding inter-parliamentary relations, as well as international and regional issues.
The parliamentary commission of friendship between the two countries was set up in 2004. It includes seven senators from Paraguay and has helped to strengthen ties and promote such trip, explained Asim Mollazade.
"We came to visit the Parliament to concretize bilateral exchanges," Mollazade said.
"We have many small and medium-scale entrepreneurs interested in doing business here," Mollazade added.
The Azerbaijani delegation also spoke of the country`s developing strategy, as well as its main directions of foreign policy, the benefits of solving conflicts in region, diversifying the country`s economy, progress achieved in the fields of education, youth and sport and Azerbaijan`s role in intercultural dialogue.
Mollazade also noted that 20 percent of Azerbaijani territories remain under occupation by Armenia, and that this occupation has been on going for 25 years.
He said as a result of the occupation of Azerbaijani territories by the Armenian armed forces, which occurred after the collapse of the Soviet Union, about one million people were forced to leave their homes. The deputy called on his Paraguayan colleagues to support Azerbaijan as it seeks to see justice restored and war crimes answered to.
The Azerbaijani MPs also met Rigoberto Gauto, Paraguay's Deputy Foreign Minister and exchanged views on cooperation between the two countries in the political, economic, humanitarian, educational fields and developing the relevant legal-standard base.
--
Amina Nazarli is AzerNews' staff journalist, follow her on Twitter: @amina_nazarli

Follow us on Twitter @AzerNewsAz