26 August 2014 11:58 (UTC+04:00)
639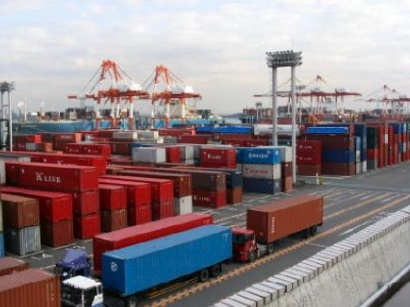 By Nigar Orujova
Azerbaijan holds the leading position in Georgia's export market.
Around 20.3 percent of Georgia's export accounted for Azerbaijan in January-July 2014, the Georgian National Statistics Service's report on foreign trade said on August 25.

Cars, cattle, medicines, cement, reinforcing steel and other goods are mainly exported from Georgia to Azerbaijan.
The goods worth $ 337.63 million were exported from Georgia to Azerbaijan in January-July, according to the report.

The export to Azerbaijan decreased by 14.9 percent compared to the same period of last year. Georgian goods worth $396.55 million were exported to Azerbaijan in January-July 2013.

Armenia ranks second on this index. Georgian products worth $179.02 million (10.8 percent of a total export volume) have been exported to this country since early 2014, the report said.

Russia ranks third in an export volume of Georgian goods - $160.99 million or 9.7 percent of the Georgia's total export volume in January-July 2014.

The trade turnover between Georgia and Azerbaijan amounted to $684.9 million in January-July 2014, which is 10.6 percent of a total volume of Georgia's foreign trade operations. This is 5 percent less than in the same period of last year when the trade turnover between the two countries amounted to $721.2 million in January-July.
Car import falls
However, Azerbaijan has reduced car imports from Georgia. About 12,860 cars worth $167.1 million were exported from Georgia to Azerbaijan between January-July 2014, the report said.
The share of this category of goods in the total Georgian export to Azerbaijan for this period amounted to 49.5 percent. The share of Azerbaijan's total export of the country in this category is 50.4 percent.
Compared to the same period of last year, export of cars in Azerbaijan decreased by 26.8 percent in terms of value, and reached 11,510 units (47.2 percent) in quantitative terms, while some 24,370 cars in the amount of $228.2 million were exported from Georgia to Azerbaijan in January-July 2013.
The decline in the supply of cars in the country is connected with the transition of Azerbaijan on the Euro-4 environmental standard from April 1. The introduction of Euro-4 significantly restricts the importation of used cars, which make up a large part of the import of cars from Georgia to Azerbaijan.
Seven percent increase of import
Moreover, Georgia increases imports of Azerbaijani products by nearly 7 percent.
In January-July 2014, Georgia imported products amounting to $347.28 million from Azerbaijan, the Statistical Service said.
The report shows, the volume of import from Azerbaijan to Georgia grew by 6.97 percent. For comparison, during the same period in 2013, Georgia imported Azerbaijani goods worth $324.66 million.
Azerbaijan continues to occupy the third place in the list of countries from which Georgia imports the products. The share of Azerbaijan's exported goods in total amount of goods imported in Georgia is 7.2 percent.
Georgia imports most goods from Turkey. In first seven months of the year, the volume of Georgian imports from Turkey amounted to $968.4 million, or 20.1 percent of total imports. China ranked second with $420.68 million and a weight of 8.7 percent of the total Georgian imports.
The main items of Georgian import from Azerbaijan are gasoline, oil, building materials, electricity, glass, margarine and other products.
In July, Azerbaijan began exporting margarine for the first time.
Azerbaijan remains leading gas supplier to Georgia
The country imported from Azerbaijan 793,250 tons of natural gas in oil equivalent worth $162.3 million in the seven-month period.
Azerbaijan remains the main natural gas supplier to Georgia with a specific weight of 83.5 percent of the country's total imports in this category. Since early 2014, Georgia imported natural gas worth a total of $194.4 million. The rest of gas supplies accounted for Russia and other sources.

In annual terms, the Georgian natural gas imports from Azerbaijan grew in value terms by 21.2 percent (in quantity terms the supplies rose by 114,790 tons of oil equivalent, or 16.9 percent).

In the same period of 2013, Georgia imported from Azerbaijan 678,460 tons of gas in oil equivalent in the amount of $133.94 million.

The specific gravity of gas in Georgia's total imports from Azerbaijan amounted to 46.7 percent in the reporting period.
Construction material import rises
Azerbaijan has also increased construction material export to Georgia by almost 14 percent.
In seven month of 2014, Georgia increased the import of construction materials made in Azerbaijan by 13.7 percent.

The report, between January and July Georgia imported from Azerbaijan 76,950 tons of plaster and other anhydrites worth $13.15 million. This figure is 13.26 tons more than in the same period of last year.

For comparison in January-July 2013, Georgia imported 63,690 tons of construction materials worth a total of $11.57 million.

Over the reporting period, the building materials' specific weight in the total exports from Azerbaijan to Georgia amounted to 3.8 percent.
Related News