Construction of largest power plant of independence period in Mingachevir is underway [PHOTOS]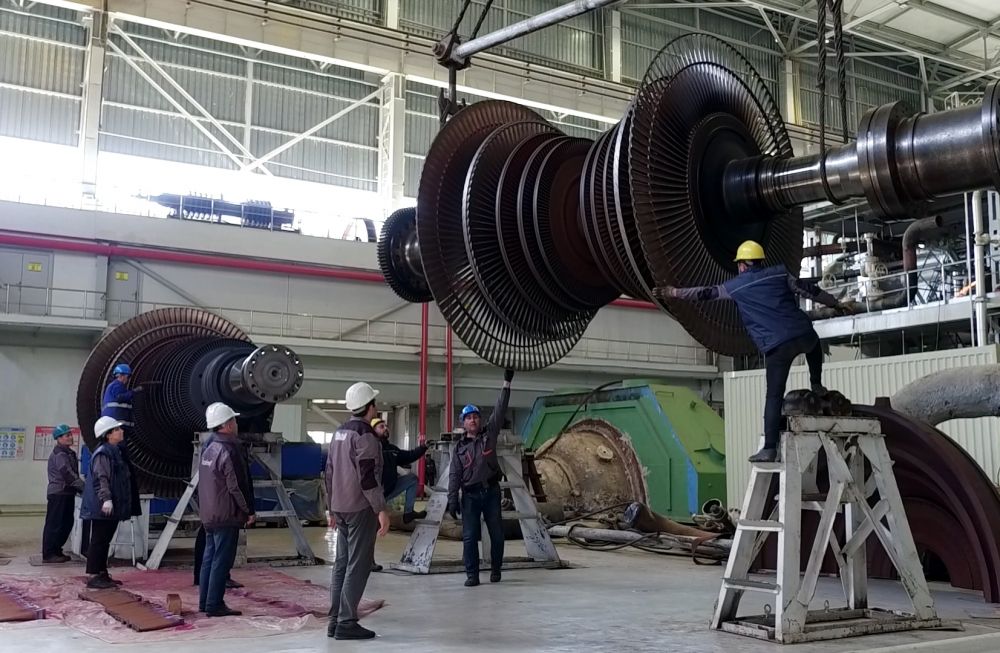 AzerEnergy OJSC is rapidly continuing work on the largest power plant, the foundation of which was laid in February of 2023 and was built during the period of independence, Azernews reports.
AzerEnergy OJSC that the construction works of the new 1,280-megawatt power plant built on the territory of the Azerbaijan Thermal Power Station located in the city of Mingachevir are being carried out by specialized local companies of Azerbaijan. The construction of the station is supervised by the Italian AFRY consulting company and the Spanish IDOM design company.
According to Salih Turan, a representative of AFRY consulting company, the work is currently progressing rapidly and is 2 months ahead of schedule. In the near future, gas turbines and generators produced by the Italian company Ansaldo Energia will be loaded on the ship and sent to Azerbaijan. To date, the foundation and concreting works of four gas turbines, generators, and boilers have been completed, and the construction of buildings in the gas compressor building and other areas, including the metal construction works of the station, are ongoing.
Renovation of circulation pumps of cooling water systems, including cooling pipes, and expansion of 500 and 330-kilovolt substations are being carried out rapidly. In parallel, in order to increase the overall efficiency, modernization of the steam turbines of the existing 7th and 8th power units of the "Azerbaijan" Thermal Power Station in Mingachevir is being carried out on a guaranteed basis. The work to remove and overhaul the turbine, generator, and other equipment weighing more than one hundred tons and to integrate it into the newly built power plant has been completed, and now the work has begun to replace the auxiliary equipment with a new one.
It was noted that the total power will be 1880 megawatts as a result of connecting the new 1280 megawatt power station and existing units 7 and 8 of the Azerbaijan TPP. Thus, the useful work coefficient will be increased by 18 percent to 56 percent. More precisely, the gas once used in the gas turbines of the new 1280 megawatt power plant will turn water into steam through utilization and will allow to get energy without using additional gas in the steam turbines of units 7 and 8 of the Azerbaijan TPP. As a result of interconnection, 800 million cubic meters of gas will be saved per year.
The construction of a new station is of particular importance in terms of creating additional generation capacities, meeting the growing demand for energy, increasing export opportunities, balancing the adverse effects of the integration of renewable energy sources into the energy system, saving natural gas in the production of electricity, and opening new jobs in the region.
---
Follow us on Twitter @AzerNewsAz