Kazakhstan sends off another freight train via Baku-Tbilisi-Kars railway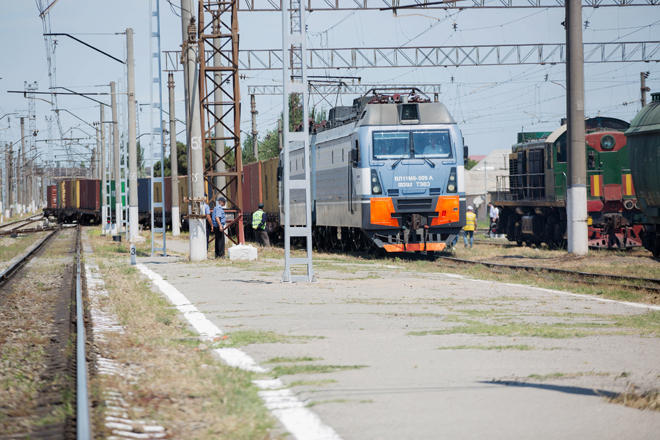 By Trend
Another freight train was sent off from Kazakhstan to Turkey's Mersin port city via the Baku-Tbilisi-Kars (BTK) railway, Kazinform news agency reported with reference to the Kostanay branch of KTZ-Freight Transportation JSC Feb. 13.
Reportedly, the first batch of wheat has been recently transported from the Kostanay region to Mersin port. Kazakhstan's Asun LLP transported its wheat to Turkey.
According to the branch of KTZ-Freight Transportation JSC, 1,500 tons of Kostanay wheat will be sent for export in batches in 72 wagons.
"Presently, we transport wheat from Kostanay to Turkey," Kazinform quoted Askar Mamedov, director general of Asun LLP, as saying. "In the future, we intend to transport peas, lentils and other cereals in this direction. Turkey has great demand for our Kostanay agricultural products and it is ready to cooperate with us."
"This is a very promising direction for our shippers," Berik Kaidarov, director of the Kostanay branch of KTZ-Freight Transportation JSC, said. "A new, rapidly developing transit route for transportation of Kostanay products provides producers with such additional opportunities in Kazakhstan as opening of new sales markets in a new direction, concluding of new contracts with new market participants."
The official opening ceremony of the BTK railway was held in Baku Oct. 30, 2017. The BTK railway was constructed on the basis a Georgian-Azerbaijani-Turkish intergovernmental agreement.
The railway's peak capacity will be 17 million tons of cargo per year. At an initial stage, this figure will be one million passengers and 6.5 million tons of cargo.
---
Follow us on Twitter @AzerNewsAz