15 February 2017 16:35 (UTC+04:00)
4 403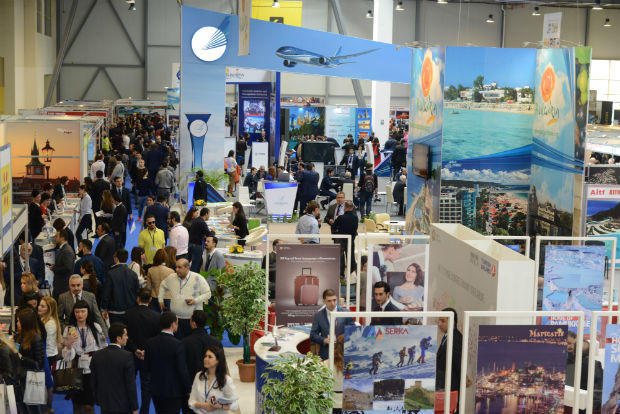 By Laman Ismayilova
Iteca Caspian has announced that it will open the season of international exhibitions in April, while 16 exhibitions and 1 conference are scheduled for 2017.
The exhibitions will be held in Baku Expo Centre with the support of government industry agencies. Currently, active work is underway with potential participants of exhibitions 2017.
The exhibition season will open the 16thAzerbaijan International Travel and Tourism Fair AITF 2017 and the 11th Caucasus International Hospitality Exhibition Horex Caucasus 2017 on April 6. Since its inception, the AITF exhibition has been actively supported by the Culture and Tourism Ministry of Azerbaijan. The event is also supported by long-term participant - Azerbaijan Tourism Association (AzTA). International institutions such as the World Tourism Organisation (UNWTO) and the Pacific Asia Travel Association (PATA) are also among the supporters of the exhibition.
This year the exhibition will present a variety of destinations, airlines, hotel chains and other tourism services. Among our participants there are companies from Azerbaijan, Italy, Switzerland and many other countries. Traditionally, the exhibition is attended by national and regional stands. Such countries as Belarus, Bulgaria, Czech Republic, Dominican Republic, Georgia, Morocco, Thailand and Turkey have already confirmed their participation with a national stand. Slovenia and the Stavropol region will participate with their regional stands. Every year new participants join the exhibition and for the first time Colombia and Cuba will present their tourism opportunities at this Azerbaijani exhibition. The full potential of domestic tourism in Azerbaijan and its regions will also be widely presented during the event. HOREX Caucasus 2017 will showcase kitchen utensils for hotels and restaurants, alongside textiles, uniforms and professional hygiene products.
As a next step, the baton will be passed to three transport exhibitions – the 16th Caspian International Transport, Transit and Logistics Exhibition Transcaspian/Translogistica, the 7th Caspian International Road Infrastructure and Public Transport Exhibition Road & Traffic, and the 4th Caspian International Boat and Yacht Show CIBS 2017 which will be held from April 26 to 28 in Baku Expo Center.
A wide range of products from both local and foreign manufacturers will be demonstrated by the participants of the 23rdAzerbaijan International Food Industry Exhibition WorldFood Azerbaijan 2017 and the Caspian International Packaging, Tare, Label and Printing Exhibition
Ipack Caspian 2017 which will be held from on May 17-19.
As is tradition, the spring season will end with the region's largest trade fair - the 24th International Caspian Oil & Gas Exhibition (May 31 – June 3); the 24th International Caspian Oil & Gas Conference (June 1-2), which will be held in JW Marriott Absheron Baku Hotel, and the 7th Caspian International Power and Alternative Energy Exhibition Caspian Power 2017.
After a short summer break, the autumn exhibition season will open in September to include international exhibitions such as BIHE, Stomatology Azerbaijan, Beauty Azerbaijan, WorldBuild Baku, Aquatherm Baku and Securika Caspian. Two exhibitions – International Exhibition
for Heating, Ventilation, Air-Conditioning, Water Supply, Sanitary, Environmental Technology, Swimming Pool and Renewable Energies Aquatherm Baku and Caspian International Protection, Security and Rescue Exhibition Securika Caspian will celebrate their 10 year anniversary in 2017.
Thus, the exhibitions again will offer opportunity to have a live chat with the representatives in different market areas, to discuss the latest trends and to get advice from leading industry experts. Guests will have an opportunity to establish business contacts with potential buyers and partners, alongside attending discussions of topical innovations and assessing future challenges and achievements.
The role of exhibitions in the marketing plan of the company emphasizes the fact that even in conditions when the world economy is reeling, the major market players still can find the opportunity to sponsor the exhibitions.
The sponsor companies already include such businesses as Azeri M-I Drilling, AZFEN J.V., Baku Steel Company, BP, Caspian Drilling Company, Caspian Geophysical, Caspian Marine Services, Denton, Ernst&Young, Fluor, Global Energy, HBC Group, NB Qrup ASC, Nobel Upstream, RusNeft, Socar Polymer, Statoil, Tekfen Construction, Total Absheron. Among the partners of Iteca Caspian in 2017 are the tour operator Premier Tour, Caucas Point Hotel, the official hotel, and AzExpoMontage, the official stand builder.
General Director of Iteca Caspian Farid Mammadov says that "the exhibition is not simply a commercial activity. People prefer to do business with people they know personally. In short, the exhibition connects people by providing a chance to open up new horizons, to find partners and to enter new markets. Our main task now is to provide additional opportunities within the exhibition for exhibitors and to find a more on point approach to specialized audiences".
---
Follow us on Twitter @AzerNewsAz
Related News