Belarus ups quota for transport operations with Azerbaijan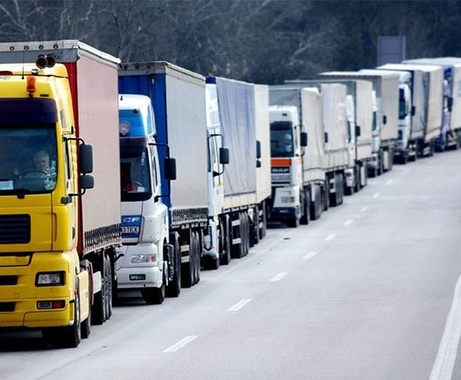 By Nigar Abbasova
Belarus has determined the number of traffic permits to be issued for cargo vehicles from Azerbaijan in 2017, increasing the figure from 800 (in 2016) up to 1,200.
The Transport and Communications Ministry of Belarus has issued permissions for carriers of some 45 countries, increasing the quota for such countries as Kyrgyzstan (from 1,000 to 1,500), Moldova (7,000 – 7,500), Mongolia (250-350), while Turkish transporters will get some 3,000 permissions.
The decision will come into force starting January 1, 2017. The number of permits for the passage of foreign vehicles across Belarus in determined on a yearly basis, while the figure may be adjusted during the year in the case of necessity.
The bulk of additional permits are planned to be applied to Euro-4 and Euro-5 vehicles, the fleet of which has significantly increased in Belarus and now accounts for over half of all vehicles involved in international road transport.
The increase in cargo transportation is expected to bring a progress in the trade and economic cooperation between the countries.
Azerbaijan and Belarus signed a protocol on international roads and cargo transportation in September 2015. The document covered a number of issues, including international road links, their prospects, and development, use of permission documents in cargo transportation, exchange of permissions for international road transportation.
The trade turnover between the countries amounted to $ 33.5 million in January-May 2016, some 16.3 percent more than in the same period of 2015. The countries have an ambitious intention to increase the volume of trade turnover up to $700 million in 2017, while the figure is nearly twofold higher than the index recorded in the most favorable year ($330.8 million in 2014).
The main exports of Belarus from Azerbaijan include products of wood, mechanical engineering, foodstuffs, medications, ferrous metals and glassware. Azerbaijan's exports comprise oil products, hydrocarbons, juices, agricultural products, aluminum goods.
Currently, the two countries enjoy high level ties in various fields and closely cooperate within international organizations. Belarus opened an embassy in Azerbaijan in February 2006, Azerbaijan opened its embassy in Belarus in August 2006.
--
Nigar Abbasova is AzerNews' staff journalist, follow her on Twitter: @nigyar_abbasova
Follow us on Twitter @AzerNews