Failure of Armenian show called "genocide"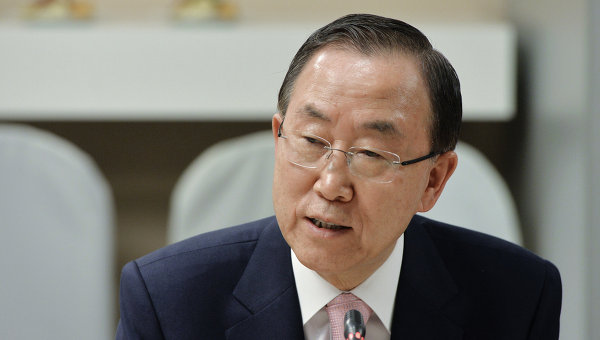 By Trend
The postponement of visits always serves somebody's interests. The UN Secretary General Ban Ki-moon has recently postponed his visit to South Caucasus scheduled for Apr.23-27. It is strange that everything happened a day before the visit.

Ban Ki-moon planned to visit Georgia, Azerbaijan and Armenia and the visit to the region was prepared. Some sources confirmed to Trend Apr.20 that the preparations for the visit to the region are going on at full speed and that the secretary general will leave for Georgia Apr.23.
However, the news came on Apr. 21 about the sudden postponement of the visit. Unexpectedness became the key point here. It's strange when a visit is canceled the day before its start.
Everything became clear thanks to information obtained by Trend from diplomatic sources. It turned out that Ban Ki-moon originally planned to arrive in Georgia in the evening of Apr. 23, in Armenia - on Apr. 25, and in Azerbaijan - on Apr. 26. However, for our neighbors from Yerevan, for obvious reasons, it was vital that the UN secretary general arrive in Armenia namely on April 24, the day the Armenians call "a day of genocide" and chose it as another date on which the world needs to feel heartily sorry for them.
However, Ban Ki-moon refused from taking part in the Armenian show entitled "Let's all together recognize the genocide" and honestly tried to postpone the date of the visit to Yerevan to April 25.
The reason of postponement is not to visit the memorial under compulsion April 24. The Armenian leadership usually invites everybody who arrives in Armenia to visit this memorial.
However, the "long-suffering" nation does not yield so easily. The unprecedented pressure was exerted on Ban Ki-moon, by the Armenians in the US as well, the diplomatic sources told Trend.
The officials having relations with the Armenian lobby, the lobby members themselves, as well as many influential members of the political elite poorly versed in the history were persuading Ban Ki-moon to pay a visit.
Therefore, the wise UN Secretary General, who became tired of refusing and didn't want to explain why he wouldn't visit Yerevan Apr. 24, simply postponed his visit to the region.
Meanwhile, apparently, feeling uncomfortable by the fact that along with the visit to Armenia he was forced to postpone his visit to Azerbaijan, Ban Ki-moon not only sent a letter to Azerbaijan's President Ilham Aliyev in which he delivered a sincere apology to the president and the Azerbaijani people for the postponement of his visit to Baku, but also later personally called the president and once again expressed regret that he could not visit Baku.
---
Follow us on Twitter @AzerNewsAz