Baku hosting passengers from East and West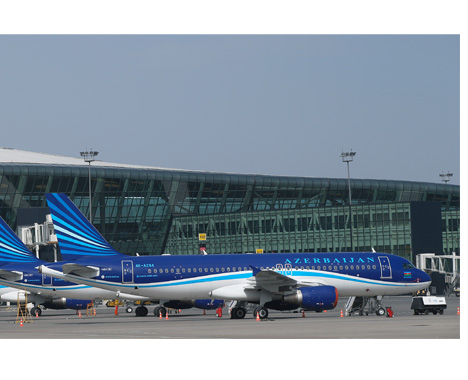 By Gulgiz Dadashova
If an adventure could have a fragrance, it would smell like Baku's new airport. The smell of … well read on.
Airports play a vital role in how a country is perceived, after all, this is where one gets the first and last impression of a country. Airports play an increasingly important role in our lives. It is in airports that we pick up a dear one or say goodbye to an old love.
Airports are an essential part of our travels, being a point of departure and arrival, transitional spaces, points of meeting or separation …
We spend much time at airports. Those of us who travel more than others spend more time in airports. With increased travel and increased security we tend to spend more and more time in these air terminals. It's always a pleasant surprise when the airport is comfortable and it's an added bonus if it is architecturally interesting and pleasant to the eye as well.
Comfort, convenience, cleanliness and customer services, these are what every passenger looks for in every airport in addition to smiling faces and friendly attitudes, accompanied by considerate and helpful workers.
More than six million passengers are expected to pass through the Baku Heydar Aliyev International Airport each year enjoying wisely functions and a memorable gateway to the country and the wider Caucasus region. The building covers an area of 65,000 square meters. Inaugurated last April, it resembles a large bird with spread out wings when you look at the building from above.
Wooden pods on the top level – described as "cocoons" by the designers – house cafes, bars, shopping kiosks and other amenities including a children's play area and luggage storage space are waiting to offer services to guests of our city.
The cocoons – which vary in size and house an array of cafes, kiosks and other amenities – are the points in which architecture and art come together creating an inviting and intriguing landscape within a huge transportation hub that challenges expectations of the airport environment and taking inspiration from Azerbaijani hospitality.
But the beauty of the air gates is not limited to its modern architecture, as it's only the beginning of the capital of quickly developing Azerbaijan.
Getting more close
The country offers an awesome smorgasbord of climates, cultures and scenic wonders. A day trip is enough to see mud volcanoes and oaks, poppy fields and deserts, timeless villages and gorgeous mountains of Azerbaijan. So give yourself an extra day or two once you're here. Prolong your flight and be sure that you won't regret it.
If you've never been to Azerbaijan, get ready to be mesmerized. Discovering Baku's state-of-the-art gamut of hotel, restaurant and museums and its 21st-century infrastructure, you will be fascinated with the glorious variety of Azerbaijan's landscapes, and the sheer fascination of our architecture, culture and history…
Just imagine an old fortress tower that researchers have not yet managed to trace its root in history. Mysterious Maiden Tower in the heart of the Inner City is still strong against the frequent winds of the city. Now, observe a hectically mushrooming skyline sprouting fanciful 21st century architecture. By strolling back, you will see yachts bobbing across an azure vista of the Caspian Sea.
Baku has suddenly unleashed one of the world's most astonishing building booms. Few architectural sights may cause exclamations over the Zaha Hadid-designed Heydar Aliyev Centre or the trio of sinuous silver Flame Towers that crown the city's western flank or frank new Gymnastics Arena that lightens not only the street that it is located on but also the road of our talented gymnast for new victories.
Like every other corner of Azerbaijan, the city also benefits from being a remarkable human melting pot bringing together several cultures – European, Turkic, Russian and Persian – all crossing with each other in one harmonious nation.
Azerbaijan means business
With a population of over 9 million people, energy rich Azerbaijan is the largest country in the Caucasus region located at the crossroads of Western Asia and Eastern Europe.
Baku is one of Eurasia's biggest air traffic hubs. It is much closer to Central Europe than you might have thought. The country which has been a venue for regional conventions, sporting contests and trade fairs over the past year is now awarded with holding the 2015 European Olympic Games, Formula One stage race in 2016 and the quarterfinals and three group games of the UEFA EURO 2020.
Azerbaijan's determination to be recognized as a major events venue is part of the 'Azerbaijan 2020: A Look into the Future' Concept which aims at doubling the national GDP by the end of the decade and growing visitor numbers.
For more than a decade, Azerbaijan's economy has been one of the world's best performing. Even a short term visitor can see the remarkable improvements in infrastructure, the constant beautification of cityscapes and the ever expanding range of commercial opportunities that continue daily.
Azerbaijan is turning into a major air hub between the Europe and Asia for four reasons, including geography, weather, culture, and continuous investments by the government.
Baku, the main gate to the country, enjoys perfect location that brings another advantage to the reliable transportation—there is almost no extreme weather unlike Moscow or Istanbul, where passengers are forced to wait for hours and even days to reach their destinations.
For many people living in Europe who need to travel to India, Pakistan, Nepal or China (and vice versa), the traffic is being funneled via one of the MEB3 hubs – be it Emirates in Dubai, Etihad in Abu Dhabi or Qatar Airways in Doha. But the reality is that flying via Baku actually offers a shorter distance.
In fact, flying to Beijing or Shanghai from Heathrow via Baku generates just 16% and 12% more flown kilometers than flying on a direct flight to these points from the UK. Compare this to the 39% and 29% increase in the distance that travelling via Dubai produces and you have a truly great location for a global hub.
Another main option is investment, which is crucial for development of any business area. New liners are being delivered to our country. Azerbaijan has become the first country in the CIS to buy two "Boeing-787 Dreamliner" aircraft.
New airports have been built in other cities of the country. Seven airports have been built over the past 10 years. Five of them are international. Over the last decade, both Baku and Nakhchivan airports have been completely re-developed and modernized. In addition, the new airports in Ganja, Zakatala, Lankaran, Yevlakh and Gabala have been open to provide air connectivity across the 87,000 km2 of Azerbaijan.
The old airport building of Baku constructed 15 years ago and overhauled recently can transport further 3 million passengers. Thus, 9 million passengers can use the Baku airport every year. For comparison, the capacity of the Tbilisi International Capacity, one of the regional airports, is just 2.8 million passengers a year.
Passenger benefits
Surely, the most important fact about each industry is its 'economic footprint', measured by its contribution to GDP, jobs and tax revenues generated by the sector and its supply chain. But the economic value created by the industry is more than that. The principal benefits are created for the customer, the passenger or shipper, using the air transport service.
On board, passengers are expected to get the highest service standards used for long-haul flights in the airline industry that will be strengthen by extra comfort in economy class and by exclusive level of amenities in business class, along with the perfect pilotage of experienced AZAL pilots. The catering concept, designed specifically for these flights, deserves special attention as well.
Moreover, the links established among cities and markets amount to an important infrastructure asset that generates benefits through enabling foreign direct investment, business clusters, specialization and other spill-over impacts on an economy's productive capacity.
The air transport network of Azerbaijan is quite extensive. There are above 35 routes connecting major airports in Azerbaijan to urban agglomerations around the world.
These all show the 'connectivity' of Azerbaijani cities with major cities and markets around the world. The connectivity means the range, frequency or service, the economic importance of destinations and the number of onward connections available through each country's aviation network.
AZAL, safety and quality
One hundred years ago, on October 20 1910, the first plane flew over Baku.
Today, more than a century after this solemn day, the national carrier AZAL has turned into a modern and dynamic company in the world.
The industry's top priority is safety and this issue stands in the cornerstone of Azerbaijan's cooperation with IATA and ICAO.
As a condition of IATA membership, airlines must successfully meet the 900+ standards that form the IATA Operational Safety Audit. AZAL, as an IATA member since 1997 has completed the audit and has proudly held a place on the IOSA registry since 2008.
AZAL does not have a single old plane. In other words, there are no higher standards, as AZAL's fleet today in the region consists of Airbus, Boeing, including recently purchased Dreamliners, and Embracer aircrafts.
The arrival of new planes open up opportunities from Baku to a number of far cities spread across regional markets which were either too far for AZAL's turboprops or too thin, from a demand perspective.
Destinations like Budapest, Madrid or Berlin in Europe could be well switched on or, when we look at the Middle East, perhaps Abu Dhabi, Riyadh or Cairo in the future. Closer to Baku in the CIS, points such as Dushanbe, Almaty or Ashkhabad may well feature in future network development plans.
AZAL also launched flights to the United States operating a triple-weekly service from Baku to New York JFK. The new services followed a US FAA ruling which granted a Category 1 safety and security rating to the state of Azerbaijan in 2014.
Direct non-stop flights to New York are a milestone in the modern history of "Azerbaijan Airlines" and show a new and higher level of its development.
AZAL is taking advantage of the government support and is now one of the major companies not only in the region but also across the globe. The number of its flights is increasing. More than 16,000 scheduled international flights depart Azerbaijan annually, destined for over 38 cities all over the world. More than 1,300 flights available to passengers annually, destined for local airports.
Catalyst for economic dynamism
Aviation is a natural catalyst for economic growth and development. As the Azerbaijani economy is expected to grow in 5-6% per annum range for the coming years, its air traffic is expected to continue to grow—at double that pace.
Aviation supports some 395 million manat of business, which is equal to over 0.8% of Azerbaijan's economic activity. If the impact of aviation related tourism is added, the number rises to 878 million manat —or 1.8% of GDP—and a total of 66,100 jobs. Aviation supports 1.8% of Azerbaijan's GDP and employment for 1.5% of the work force.
The aviation sector supports 28,000 jobs in Azerbaijan. It pays around 62.9 million manats in tax including income tax receipts from employees, social security contributions and corporation tax levied on profits, according to the 2013 data provided by the IATA.
Because of various reasons, from visiting family and friends to shipping high value products, about 2.6 million passengers and 443,000 tonnes of freight have been transported to, from and within Azerbaijan, according to the 2013 data of the State statistics committee.
About 1.4 million passengers were transported by planes in January-September 2014. Of this, 99.7% was carried out by state sector, 0.3% - by private sector.
The successful development of AZAL has a positive impact on the overall development of the country, because people coming to Azerbaijan, Baku and other cities use AZAL, and the service they receive creates an impression of the country in their minds from the first minute.
--
Follow Gulgiz Dadashova on Twitter: @GulgizD
Follow us on Twitter @AzerNewsAz