President Aliyev: Azerbaijan to avenge on battlefield Armenian attacks on civilians [UPDATE]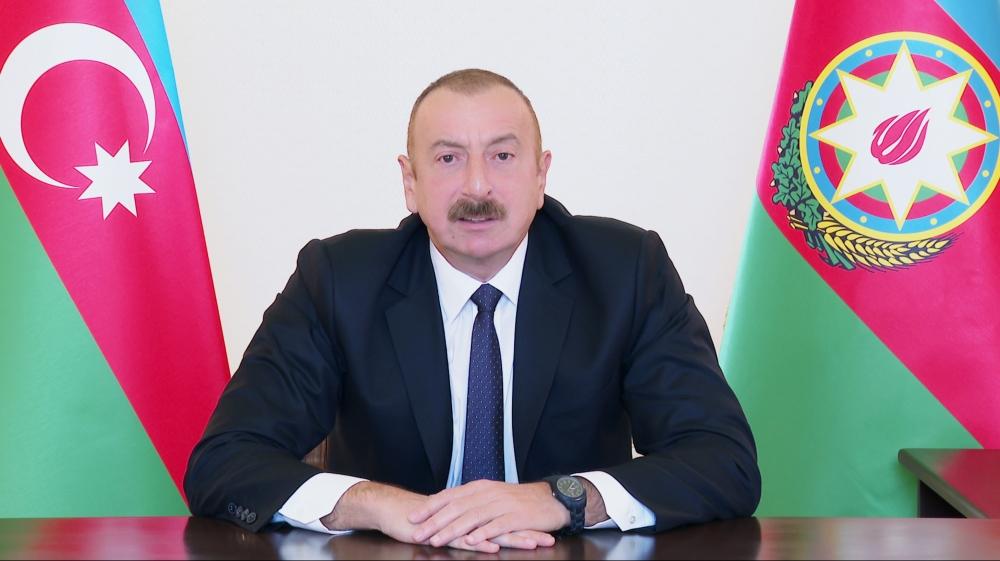 By Aisha Jabbarova
President Ilham Aliyev has said that Armenian missile attacks on Azerbaijani civilians will be avenged only in the battlefield, saying that his country has not and will not target Armenian civilians.
Aliyev made the remarks in an address to nation on October 17, a few hours after Armenia fired ballistic missiles on the country's largest city Ganja.
Thirteen civilians were killed and 52 others were injured in Armenian missile attacks on Ganja's densely-populated area on October 17.
"Armenian leadership is committing a war crime. Shooting at civilians, including firing missiles, is a war crime, and they must and will bear responsibility for this crime. We are giving their answer on the battlefield. We are avenging and will continue to avenge the deaths of our martyrs, of innocent civilians on the battlefield. We have never fought or will ever wage a war against the civilian population. We are not Armenians. We have our own way, we have our own cause, and all the Azerbaijani people are united around this cause. All the Azerbaijani people are showing solidarity and patriotism.
Aliyev described as "cowardly" the shelling of Ganja and Mingachevir cities that ended in the killing of civilians.
"Despite the fact that the cowardly, treacherous and vile enemy commits war crimes, fires on the civilian population and kills children as a result of today's shooting, I want to say again that we must not take revenge on civilians. We are taking revenge on the battlefield."
"This is a crime against humanity. If the international community does not want to bring Armenia to justice for the crimes it has committed – just as no-one has brought them to justice for the Khojaly genocide – we will bring them to justice ourselves. We will punish them, and our punishment will be just. They deserve the most severe punishment. The military-political leadership of Armenia are criminals and we will punish these criminals," Aliyev said.
The president also reminded the Armenian attack on Ganja on the night leading to October 11 after the two countries reached a humanitarian truce mediated by Russia. The attack had killed 11 civilian and injured dozens others.
"A ceasefire was declared, but Ganja was bombed a day later. And which part of it? A residential settlement. Where did they hit today? Again, a residential area. When did they shoot? At night, so that more people die."
The president said that attacks on civilians shows the fascist nature of the Armenian leadership, saying that blood of our martyrs and civilians will be avenged.
"This is not the first time our cities have come under fire. Armenia fires on Tartar, Aghdam, Goranboy, Aghjabadi and other cities practically every day. As a result of this fire, our citizens have been killed and wounded, more than 2,000 houses have been destroyed or seriously damaged. However, these cowardly actions cannot break the will of the Azerbaijani people.
Speaking about the ongoing military operations, Aliyev said that the Azerbaijani Army will continue to drive Armenia's occupying forces away from Azerbaijani lands.
Aliyev reminded that the Azerbaijani Army has so far liberated from occupation Jabrayil, Fuzuli cities, Hadrut town, many villages in Khojavand and Jabrayil districts. He said that Fuzuli operation will be included in military books.
"In fact, not only Fuzuli operation but also other operations. According to the information I have today, military experts are already clearly saying that the Azerbaijani Army is an army with great combat capability and technical support."
Armenia's military losses
Since 27 September, the Azerbaijani Army has almost completely destroyed the military-technical potential of Armenia.
Azerbaijan has destroyed and taken as booty Armenian military equipment worth at least $2 billion since military operations in recent days Aliyev said and gave the list of such equipment.
"234 tanks have been destroyed, 36 tanks have been taken as military booty, 49 infantry fighting vehicles have been destroyed, 24 have been taken as military booty, 16 self-propelled artillery pieces have been destroyed, 190 cannons of various calibers, two "Hurricane" systems, one TOS flame-thrower, two "Elbrus" operational tactical missile complexes, one "Tochka-U", 35 "OSA" anti-aircraft missile systems, three "TOR" anti-aircraft missile complexes, five "KUB" and "KRUG" anti-aircraft missile complexes, nine radio-electronic combat systems, two S-300 anti-aircraft missile systems, 196 trucks have been destroyed, and 98 have been taken as booty. Anyone, any specialist can calculate the price of this equipment from open media. We must and we will find answers to these questions."
Weapons being smuggled to Armenia
Furthermore, the president said that weapons and military equipment are being smuggled to Armenia.
"The question is where do so many weapons and so much equipment come from to Armenia? Armenia's military budget is well known. Armenia's state budget is also well known. Armenia is a bankrupt country. The country's foreign debt accounts for 60-70 percent of the country's gross domestic product. The country's foreign exchange reserves are only $1.5 billion, which are bank reserves. That is, it is not free funds. What money are they getting these weapons and equipment with? The equipment we have destroyed and takenp as booty so far is worth at least $2 billion. But there is still more in their hands – in the occupied territories and in the territory of Armenia. The question is who is arming them. In some cases, we are criticized that we are arming ourselves, we are buying weapons and this can allegedly aggravate the situation and turn it towards an unacceptable direction. The question is what about Armenia's armament. Where do so many weapons and hardware come from to this poor country? Today, they are smuggling weapons and equipment using some smuggling schemes. And they are very dangerous and very destructive weapons. Therefore, we want answers to these questions, and I am sure we will get them."
Aliyev reminded that the current Armenian leadership staged series of provocations that resulted in the escalation of the situation.
Among these provocations, the president sited the illegal settlement of Armenians from Lebanon and other countries to occupied Shusha, saying that this is a war crime that contradicts the Geneva Convention.
"They do it demonstratively, they show it on TV, they show Armenians coming to live and work in our ancient land. Let's see now who will come to settle in Shusha…What was the purpose of bringing Armenians from abroad and settling them there in various ways, including through deception because Armenia has a small population? The goal is to keep our historical lands under eternal occupation, to ensure eternal occupation and Armenianize our lands."
--
Follow us on Twitter @AzerNewsAz