Armenia shows less friendly attitude towards CIS countries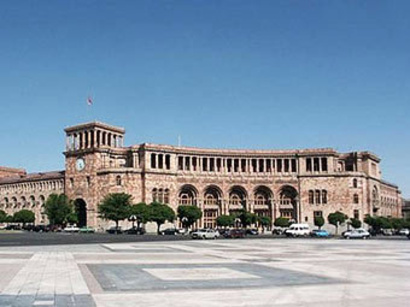 By Rashid Shirinov
The EDB Integration Barometer, a yearly research conducted by Eurasian Development Bank's (EDB) Centre for Integration Studies, has revealed a less friendly attitude of Armenia towards the CIS countries.
The 2016 survey showed that the lowest trust for post-Soviet countries was demonstrated in Armenia. The percentage of citizens in Armenia has fallen by 13 points, to 72 percent, in terms of friendliness towards the CIS countries in 2016.
In all the Eurasian Economic Union (EEU) member countries the number of the respondents, who believe that the CIS countries will converge in the next five years, declined to some extent. The most palpable decrease was in Armenia (from 26% to 14%) and the Kyrgyz Republic (from 70% to 60%).
The indicator of Armenia has decreased to a minimum level during five years of observations. Apparently, this is linked to the frustration of Armenians caused by the position of the Eurasian Economic Union (EEU) and the Collective Security Treaty Organization (CSTO) about the Armenia-Azerbaijan Nagorno-Karabakh conflict, the document noted.
While Russia remained the friendliest CIS country, the perception of friendliness of Armenia towards Russia in 2016 has plummeted by 17 points, to 69 percent. However, this indicator was the highest in previous years, being 86 percent in 2015 and 87 percent in 2014.
The survey also shows that the perception of Georgia by Armenians as a friendly nation has also decreased from 27 to 13 percent. This is quite logical, given regular provocations of Armenia towards Georgia and its claims to Georgian lands.
Moreover, Armenia has huge tension in relations with another bordering country – Turkey. Since the beginning of the Nagorno-Karabakh conflict, Turkish-Armenian border remains closed.
Apparently, Armenia has messed up its relations with almost all countries of the region. And if a country does not support occupant Armenia in the Nagorno-Karabakh conflict, it gets included in the imaginary 'black-list' of Armenians, and relations with this country further deteriorate. However, this harms Armenia itself – due to its aggressive policy, the country cannot benefit from the international and regional projects, and becomes the 'black sheep' of the region.
The solution of the problem is quite apparent – withdrawal from Azerbaijani lands.
---
Rashid Shirinov is AzerNews' staff journalist, follow him on Twitter: @RashidShirinov
Follow us on Twitter @AzerNewsAz