Azerbaijani gymnast qualifies for Rio 2016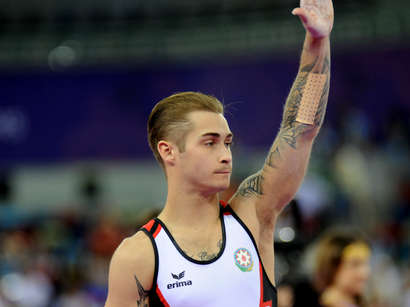 By Amina Nazarli
Azerbaijani gymnast Oleg Stepko has been placed on the list of the nation's athletes, who won tickets to compete at the Rio 2016 Summer Olympics.

At the World Gymnastics Championships in Glasgow, held from October 23 to November 1, Stepko was awarded a bronze medal, earning 15,966 points, and is seen as being a contender to win an Olympic medal.
Thus, Oleg won Azerbaijan's first-ever medal at the World Championships in the Men's Artistic Gymnastics competition. He shared the podium with Shudi Deng from China, following by Ukraine's Oleg Verniaiev.
Commenting on his victory, Oleg said, "I set myself the minimum goal, but reached the maximum."
He said he believed that competitive rivalries increase every year. "The level of gymnastics is growing, there are a lot of interesting new gymnasts who show a huge level of training," the gymnast said.
Stepko added that Azerbaijani gymnastics is being recognized on the world level, and other countries have begun to fear the national team.
He also discussed the "Challenge Cup" to be held in Baku in February 2016, which is aimed to prepare athletes for Rio 2016.

"This is a very prestigious competition," he noted. "We must also take into account that this is a home tournament, and we have to show good results. That's why our goal now is to prepare for this tournament."
Chief coach of the national gymnastics team, Pavel Netreba, said he was pleased with Stepko's recent showing.
"I believe that he performed well. The World Cup is a difficult competition, where the strongest gymnasts from all countries participate. Oleg needed only 0.1 points for second place, and this is a very small figure. This means he could fight for second and first places. And I believe he can achieve this in the future", said Netreba.
Following the first European Games in Baku this summer, where Stepko earned five medals, he proved he was a strong gymnast who deserves to compete in Rio.
Oleg is the second national gymnast to qualify for Rio. Earlier in September, Azerbaijani gymnast Marina Durunda also earned a place to compete at the Rio Summer Olympics.
Twenty-one year-old Stepko is a Ukrainian athlete, who changed his sports nationality to Azerbaijani and, since 2014, has represented the country at many national and international competitions.
In the World Cup Championships in Doha in 2014, he took first place on the parallel bars. Also in 2014, at the 1st Israeli Men's Artistic Gymnastics Open Cup, Stepko won three gold medals in all-around, parallel bars, and rings.
--
Amina Nazarli is AzerNews' staff journalist, follow her on Twitter: @amina_nazarli
Follow us on Twitter @AzerNewsAz