Tajikistan's Rogun HPP to pave way for other plants operations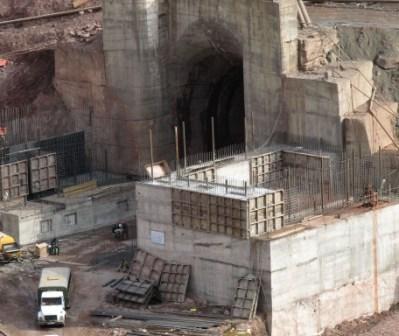 By Aynur Jafarova
Commissioning of Tajikistan's Rogun hydropower plant will allow other hydropower plants of the country in the Vakhsh cascade to reach their full capacity, local media reported.
A source in the energy sector of the country told local media that functioning of Rogun reservoir can provide downstream hydropower plants with sufficient volume of water.
"Currently, the reservoir of the hydropower plant of the Vakhsh cascade, including Nurek water reservoir, have seasonal nature, that is, due to the small capacity, they can not accumulate sufficient water for year-round power generation according to its design capacity," the source said.
This problem is expected to be solved after full commissioning of the Rogun hydropower plant. The launch of the Rogun plant will prolong the "life" of all other hydropower plants of the Vakhsh cascade for another decade.
The construction of the Rogun hydropower plant is not easy. Tajikistan faces economic and political obstacles of neighboring countries, in particular, Uzbekistan, with which Tajikistan has problematic relations. Another problem is how to finance the construction of the Rogun hydropower plant, the cost of which is estimated at as much as $2.2 billion.
The Rogun hydropower plant is seen in Tajikistan as a solution to the energy independence and a tool for economic growth. If the project is implemented, Tajikistan will be able to generate about 13 billion kilowatt-hours of electricity annually. This will not only help the country to meet its domestic needs but will also make Tajikistan a major exporter of electricity.
One of the main issues pertaining to the construction of the Rogun hydropower plant is its impact on the environment of the region.
There are contradictory evaluations on the matter. Several experts believe that the Rogun hydropower plant will cause disasters while others argue that there is no such possibility.
The Uzbek authorities say that the massive dam would have an adverse environmental impact and induce higher scale earthquakes in an already seismically active area. According to Uzbek experts, a large earthquake would destroy the Rogun Dam and tens of cities in Tajikistan, Afghanistan, Uzbekistan and Turkmenistan would be flooded.