23 January 2014 16:13 (UTC+04:00)
1 385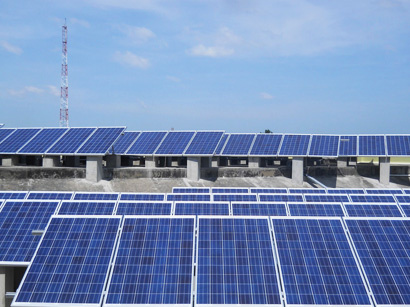 By Aynur Jafarova
A leading Germany company is planning to construct six solar power plants in Kazakhstan in 2014 -2016.
German ecap Solutions GmbH will build the plants in Zhambyl. The issue was discussed at a meeting between the head of Zhambyl region Karim Kokrekbayev and representatives of several foreign companies working in renewable energy field including Strand Partners, United Green Group, ecap Solution, as well as some Kazakh companies.
GmbH plans to start the construction of the first solar power plant in 2014 and put it into operation in 2015. Three other solar power plants will be constructed in 2015 and two more in 2016.
The capacity of each new solar power plant stands at 50 MW.
The participants in the meeting also discussed the possibility of implementing a project to create a 300-MW solar power plant in the Zhambyl region.
Kokrekbayev noted that innovative projects in this field are very important for Kazakhstan which will hold an international EXPO exhibition in 2017.
He also said that the regional authorities will provide renewable energy projects with the necessary infrastructure in line with the state program "Business roadmap 2020".
Renewable energy, which is commonly called alternative energy is an alternative to fossil fuels. It comes from natural resources such as sunlight, wind, rain, tides, and geothermal heat, which are naturally replenished.
Experts believe Kazakhstan has to turn to alternative energy sources by 2030, as the traditional sources are being exhausted and their prices are rising. They say about 20-30 percent of domestically consumed energy can be saved by using alternative energy.
Kazakhstan is viewed by CIS countries as a promising market for wind and solar energy.
The share of alternative and renewable energy in the energy basket of Kazakhstan will reach 50 percent by 2050. Today, about 85 percent of Kazakhstan's electricity comes from coal-fired power plants and close to 9 percent from hydroelectric power plants.
Related News