Saakashvili: Path to NATO lies through friendship with Turkey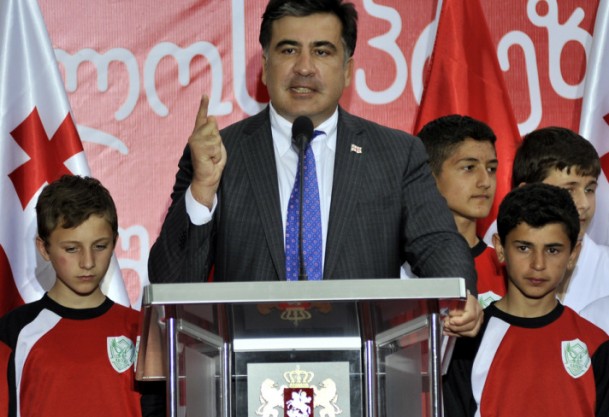 By Sabina Idayatova
Georgian President Mikheil Saakashvili has said the path to NATO lies through friendship and brotherhood with Turkey.
President Saakashvili said in the Turkish city Inegol in Bursa province, where he met with Turkish citizens of Georgian descent, during his official visit on Saturday, "Today, more than ever, you are the bridge between our two countries. You, more than ever, are a window for Georgia to Europe. The way to NATO goes through the friendship and brotherhood with Turkey. You are not just ordinary citizens of Turkey, you are very successful citizens of Turkey."
Accession to NATO is one of the top foreign policy priorities of Georgia. Soon after the declaration of independence, Georgia joined the North Atlantic Cooperation Council. Georgia's practical bilateral relations with NATO were established in 1994 when the country joined the Partnership for Peace program (PfP). At the informal meeting of NATO foreign ministers in 2006 it was decided to launch Intensified Dialogue on Membership Issues with the South Caucasus republic.
Georgia as a significant contributor to Euro-Atlantic security is actively involved in NATO-led operations and its contribution to the NATO-led ISAF operation in Afghanistan is of significant importance. Nowadays, Georgia is the second largest troop contributor to Afghanistan among the non-NATO states.
Speaking about the conflict within Georgia, Saakashvili said: "The Russian Empire has quarreled us. But here ethnic Abkhazians and Georgians live fraternally, which means that fraternal life of Georgians and Abkhazians is possible."
Saakashvili also noted that if Russia does not sow discord between Caucasians and "does not divide us", the Caucasus will be strong and invincible. "I am absolutely sure [about that]," he said.
"I know how much effort is applied by the locals to preserve their culture," Saakashvili stressed.
Local media also quoted Saakashvili as saying that Turks of Georgian origin living in Turkey would be given the right of being Georgian citizens.
According to Saakashvili, there are over 10 million Georgians living in the world, and some of them are Christians and some Muslims. Saakashvili noted that the difference in religions was not an important matter and this would only bring diversity.
"We will always live in unity and integrity," Saakashvili said, adding that Georgia would accept all citizenship applications from Georgians living in Turkey.
On the same day, Saakashvili met with Turkish Prime Minister Recep Tayyip Erdogan at Dolmabahce palace in Istanbul. The parties discussed the relations between the two countries and deepening of cooperation.
The sides discussed joint projects in the region, in which Azerbaijan is also involved, including oil and gas pipelines as well as the construction of the Baku-Tbilisi-Kars railway.
The parties stressed that the friendly relations that have been established in recent years between the two countries are exemplary and significant in the region and will further develop.