7 December 2012 16:07 (UTC+04:00)
1 096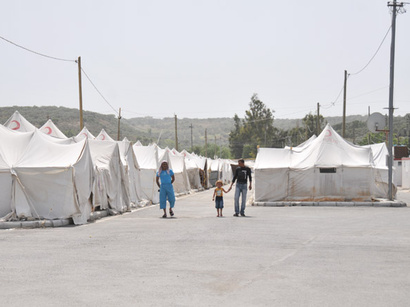 UN Secretary General Ban Ki-moon arrived in Turkey on Friday, Trend news agency reported, referring to TRT Haber TV channel. His plane landed at the airport in the city of Gaziantep.
It is expected that Ban Ki-moon will visit the Syrian refugees' camp in the Turkish cities bordering with Syria.
Also, Ban Ki-moon will meet with Turkish Prime Minister Recep Tayyip Erdogan and Foreign Minister Ahmet Davutoglu, during which the Syrian crisis will be discussed.
Today the number of Syrian refugees in Turkey, who escaped the unrest in the country, is more than 130,000. A total of 10 tented camps for Syrian refugees have been operating in the cities of Hatay, Şanlıurfa, Gaziantep and Kahramanmaras.
Violence has gripped Syria since protests that began against President Assad 21 months ago turned into a revolt amid a government crackdown. Civilians make up the vast majority of the at least 20,000 people killed in the conflict, while 2.5 million Syrians need humanitarian assistance, and another 475,000 have fled the country and have either registered, or are registering, as refugees, according to UN estimates.