U.S. releases Iranian port Chabahar from sanctions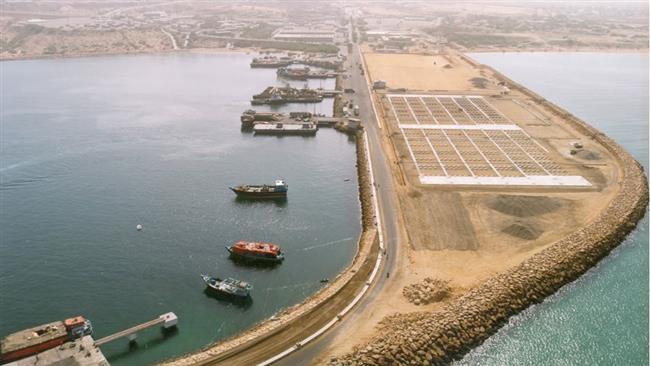 By Abdul Kerimkhanov
The U.S. pulled out of the sanctions Iranian port Chabahar, which is used by Afghanistan and India to transport energy.
U.S. Secretary of State Michael Pompeo decided to make an exception in relation to some of the sanctions imposed against Iran.
Representative of the U.S. State Department declared that after in-depth study, the state secretary envisaged exceptions to the sanctions regime, which was introduced under the Anti-Iran Act (IFCA) of 2012, for the port of Chabahar and the railway connected with it to transport products through this port, which is used by Afghanistan, and allow continuation of Afghanistan's import of Iranian oil products.
The official added that the presidential strategy in South Asia is aimed at supporting the growth of the Afghan economy, as well as developing partnership with India.
The U.S. intends to strengthen and further build partnership with these two countries within the framework of this policy, with maximum pressure on Iran to change the behaviour of this regime, which destabilizes the entire region.
The commercial port of Chabahar is used to export Afghan goods, in particular, perishable agricultural products, to India and the countries of Central Asia.
Chabahar port is an alternative to the Pakistani trade and transit route, which the Afghan government is actively using.
The U.S. introduced a second package of unilateral sanctions against Tehran aimed at restricting the export of Iranian oil on November 5. More than 700 individuals and legal entities, ships and aircrafts of Iran fell under the new U.S. sanctions.
This is the second wave of sanctions imposed by the Trump administration since May of this year.
Despite the desire to reduce to zero the supply of Iranian oil to the world market, Washington nevertheless went for relief for a number of countries purchasing energy from Iran, including Italy, Greece, Turkey, India, China, South Korea, Japan, Taiwan.
In 2012, the Iranian government ceased, in response to sanctions by Western countries, the sale of oil to the U.S. and the UK, and from the beginning of 2013 to the EU.
After Iran made concessions on the nuclear program, in 2016 the U.S. authorities announced the lift of sanctions from 59 individuals (citizens of Iran and other countries), 385 enterprises, 77 planes and 227 ships.
In 2018, the Trump administration restored sanctions against Iran.
U.S. President Donald Trump announced in May that Washington was withdrawing from an agreement on a nuclear program with Iran. Trump also reported on the restoration of all sanctions against Iran, including secondary ones, that is, in relation to other countries doing business with Iran. The United States re-introduced part of the sanctions against Iran on August 7. More substantial sanctions that will cover oil exports are expected from the beginning of November.
From August 7, 2018, the updated Blocking Statute entered into force in the EU, the provisions of which are aimed at protecting European companies from the influence of U.S. extraterritorial sanctions.
---
Follow us on Twitter @AzerNewsAz