Kazakh president nominated to Nobel Peace Prize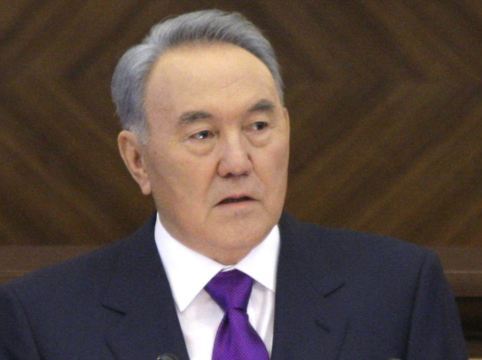 By Kamila Aliyeva
Kazakh President Nursultan Nazarbayev was nominated to Nobel Peace Prize for its initiatives for global nuclear disarmament, according to the Nobel Peace Prize Watch.
The president was nominated by Director of a peace research institute, the Basel Peace Office, Alyn Ware (Switzerland) and Scottish MP Bill Kidd.
"President Nursultan Nazarbayev stands out as a leader who has taken a number of significant nuclear disarmament initiatives during his 22 years as leader of Kazakhstan," Alyn Ware said.
He said Nazarbayev not only has a commitment to the achievement of a nuclear-weapons-free world but also continues to take a number of initiatives that are influential in the process to achieve such a world.
Alyn Ware and Bill Kidd also nominated Kazakh artist and Honorary Ambassador of the ATOM Project Karipbek Kuyukov to this high prize.
Kuyukov is a hero of the nuclear age who is highlighting the tragic experience of his region in Kazakhstan - devastated by the long-term effects of Soviet nuclear tests.
The ATOM Project, which he leads, informs the world of the catastrophic humanitarian and environmental impact of nuclear weapons and the imperative for nuclear abolition.
"A joint nomination of Nursultan Nazarbayev (President of Kazakhstan) and Karipbek Kuyukov (Honorary Ambassador of the ATOM Project) for their dedicated and effective actions to highlight the catastrophic humanitarian consequences of nuclear weapons, as well as for their leadership in promoting a nuclear-weapons-free world," Bill Kidd said.
The Nobel Peace Prize is a prestigious award, presented annually by the Nobel Foundation for achievements in the areas of peace, one of the five Nobel prizes, founded by Alfred Nobel in his will, written in Paris on November 27, 1895.
According to Nobel's will, the Peace Prize shall be awarded to the person who in the preceding year "shall have done the most or the best work for fraternity between nations, for the abolition or reduction of standing armies and for the holding and promotion of peace congresses."
---
Kamila Aliyeva is AzerNews' staff journalist, follow her on Twitter: @Kami_Aliyeva
Follow us on Twitter @AzerNewsAz