26 November 2016 11:19 (UTC+04:00)
2 533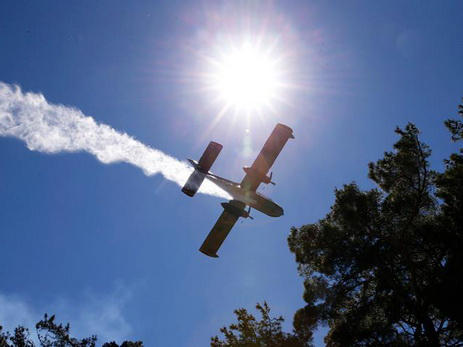 By Trend
Israeli police arrested 13 people on Friday on suspicion of arson, authorities said, after massive wildfires tore through central and northern Israel, a conflagration that Prime Minister Benjamin Netanyahu branded as "terrorism", Reuters reported.
Firefighters kept battling the flames in wooded hills around Jerusalem and in northern areas on Friday, with support from Palestinian firemen and emergency teams from Greece, Cyprus, Croatia, Italy, Russia and Turkey.
Netanyahu said he had also accepted offers of help from Egypt and Jordan.
Unseasonably dry weather and easterly winds helped kindle the fires, which erupted on Tuesday and now stretch across half the country.
Arson appeared to be behind some of the blazes, Netanyahu said. "A price will be paid for this arson-terrorism," he told reporters on Friday. He said the arson was carried out by "elements with great hostility toward Israel."
"We cannot tell yet if this is organized, but we can see a number of cells operating," Netanyahu said.
Police spokesman Micky Rosenfeld said a dozen people had been detained either while attempting to set fires or fleeing the area, but he provided no further details. Internal Security Minister Gilad Erdan told reporters 13 people were arrested.
Erdan said those arrested were "minorities", an allusion to either Arab Israeli citizens or Palestinians. "The highest likelihood is that the motive is nationalistic," Erdan told Army Radio. Police, however, stopped short of declaring any motive.
The fires are the biggest in the country since 2010, when 44 people were killed in a killed in a massive blaze in the north. Investigators concluded that fire was caused by negligence.
--
Follow us on Twitter @AzerNewsAz
Related News