President Ilham Aliyev: Policy of double standards must end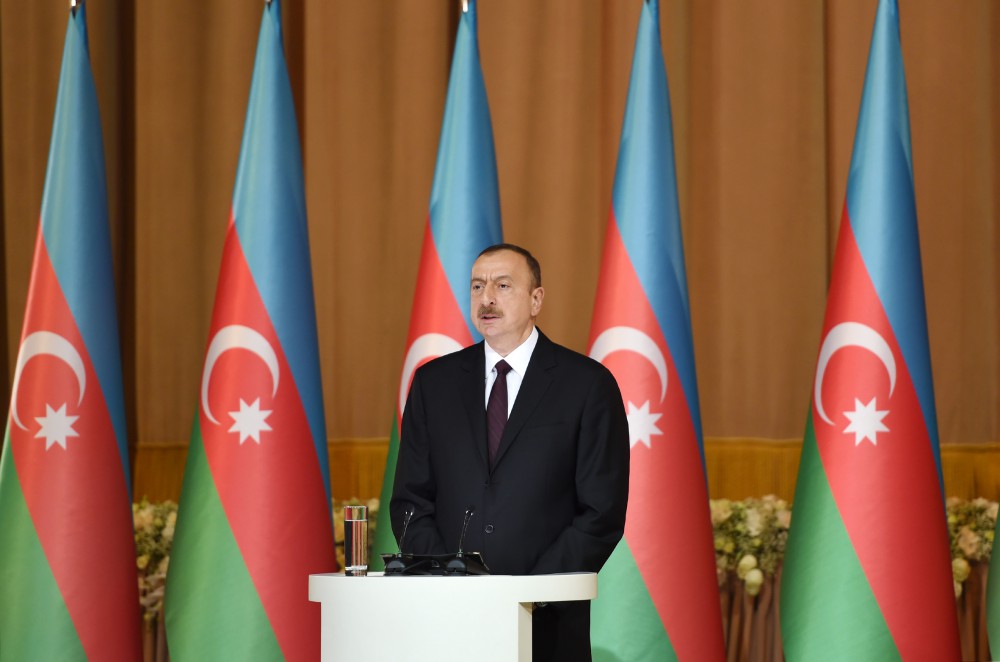 "Without security and stability, of course, there can be no talk of democracy, economic and social development, and we saw it in our recent history. Today, the whole world can see that. There are some very dangerous processes taking place in the CIS, Europe, the Middle East and around us. Democratic norms are violated, discriminatory tendencies are amplifying, there are stand-offs, misunderstandings and wars on ethnic and religious grounds begin. We see on television that demonstrators in developed countries are faced with violence," said President of the Republic of Azerbaijan Ilham Aliyev at an official reception on the occasion of the Republic Day.
"In the past, some countries tried to accuse Azerbaijan of allegedly violating human rights. They claimed that our democracy is weak and there is no freedom of assembly. Of course, everyone knows that all of this is a lie. No-one in Azerbaijan is savagely beaten, no-one is offended and there are no restrictions. How is it that when it comes to us, these fictitious charges are viewed as a sign of an authoritarian regime, while the countries considered to be the cradle of democracy which we see on television these days are regarded as democracies? How can it be that demonstrators get brutally beaten and insulted, and this is considered a democracy? The situation in Azerbaijan is stable. Our people live in comfortable and free conditions, but this is not considered a democracy."
"This policy of double standards must end. It is completely unbearable. Of course, the people of Azerbaijan can perfectly see and understand everything. They knows the reason for the campaign against us, who is the target and what is the anticipated result. The reason is that we are going down our own path, the path of independence. We do not interfere in the internal affairs of other countries and will not allow anyone to interfere in our internal affairs. Some forces can't accept that, as they are accustomed to controlling countries in other parts of the world. The target, of course, is the political leadership of Azerbaijan and myself because I am the head of this country and define the policy of Azerbaijan. Azerbaijan's independence is guaranteed by myself and the people of Azerbaijan!" the head of state added.
---
Follow us on Twitter @AzerNewsAz