19 May 2016 10:06 (UTC+04:00)
1 238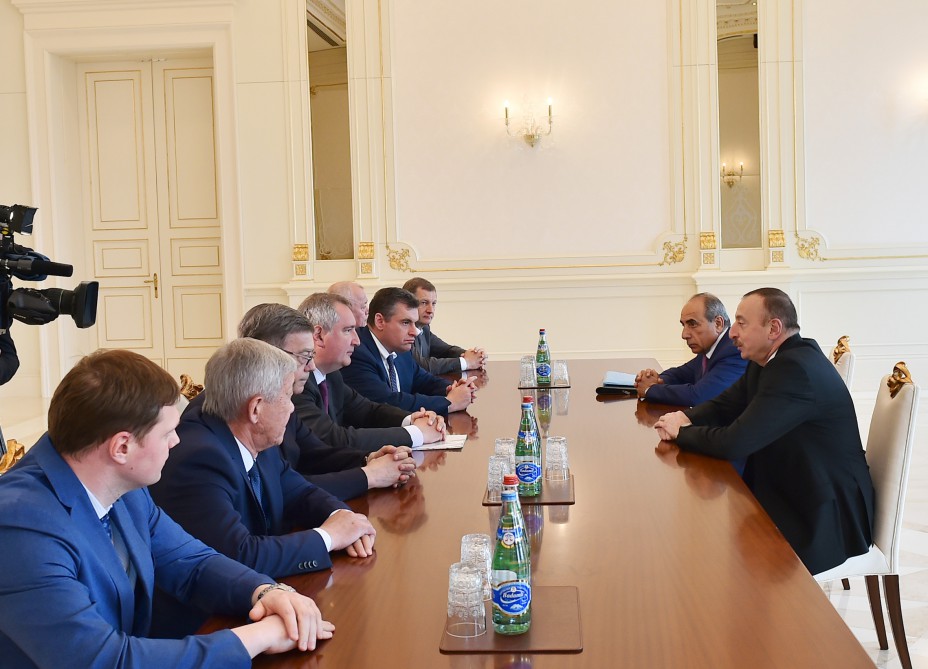 President Ilham Aliyev received a delegation led by Deputy Prime Minister of the Russian Federation Dmitry Rogozin on May 18.
The head of state said relations between Russia and Azerbaijan had been developing successfully and dynamically, and noted that the visit of the Russian Deputy Premier to the country opened good opportunity to discuss the issues on the agenda of the bilateral relations.
President Aliyev hailed Rogozin's role in expanding the bilateral ties between the two countries as a co-chair of the Azerbaijan-Russia Joint Intergovernmental Commission.
The president highlighted Azerbaijan`s activity as part of the Commission, saying the country spares no efforts to develop the ties.
President Aliyev said the results achieved are quite positive amid the global economic crisis, and noted that there were great opportunities for expanding the existing potential.
The head of state pointed to broad spectrum of cooperation, which involves all spheres of the bilateral ties, as well as foreign policy, economic, social, humanitarian and other fields.
The president noted that trade and economy became key priorities of the relations, and expressed confidence that the potential in this sphere would continue to increase.
President Aliyev highlighted the importance of the meeting in terms of reviewing the work done and determining future steps.
Rogozin stressed the significance of the meetings of the Azerbaijan-Russia Joint Intergovernmental Commission for cooperation in trade, economic, cultural, educational and other fields in terms of the development of collaboration.
He noted that such meetings yielded good results in terms of controlling the ongoing work and the agreements reached. Dmitry Rogozin said Azerbaijan and Russia are now holding talks on a joint project in the field of mechanical engineering, which is of particular importance and can be a promising area for both countries.
Related News