18 August 2015 13:46 (UTC+04:00)
1 808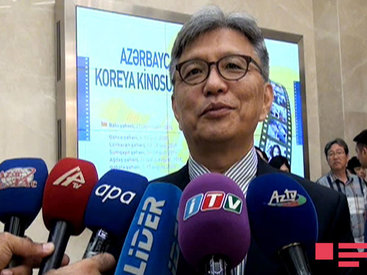 By Amina Nazarli
Azerbaijan's marvelous Gabala and Korea's Gyeongju will become sister cities, Korean Ambassador to Azerbaijan Choi Suk-Ying said.
The ambassador noted that the Korean city will host "Gyeongju Silk Road" festival from August 21 to October 18. As part of the event, the Gabala city office of the mayor will visit the country and the sides will sign the agreement.

He also added that the Days of Azerbaijan will also be held at the festival. This particular event is scheduled for August 25-30 and will be accompanied by a national dance troupe, as well as the ensemble of ancient musical instruments, one pianist, two opera singers, and other musicians.
Choi Suk-Ying went on to praise the relationship between the two countries. "In recent years, Korea-Azerbaijan relations are developing rapidly. Currently, the two sides have new ties in many spheres," he said.
He also underlined the importance of the Korean Film Festival, running in Azerbaijan from July 6 and August 15, adding that the event provided detailed information about Korea to Azerbaijani audiences.
He noted the importance of such events for the development and promotion of film culture.
The diplomat lauded Korea's is closely cooperation with Gabala.

"I have been in Gabala for several times. I feel myself as comfortable as at home here," he said. "Gabala has special significance for Koreans."

Korean artists and musicians took part in the international exhibitions and music festivals held in Gabala, said the ambassador.
Meanwhile, Korean archeologists are conducting excavations in ancient Gabala with the support of SEBA, the Azerbaijan-Korean Cultural Exchange Association.

SEBA, which seeks to realize large-scale cultural exchange programs between Azerbaijan and Korea, was established in 2004. So far, the organization has implemented several projects in the fields of science, health, and culture.
Gabala was a capital of Caucasian Albania for about 600 years and was one of the largest cities in the region until the 15th century.
The city withstood the attacks of ruthless enemies, and is remembered by its ruins.
There are a great variety of historical and cultural monuments of different eras in this region dating from 4th until the 19th centuries.
The ruins of the city are located east of the village of Chukhur Gabala and south-west of the modern town of Gabala. The ruins of the citadel cover over 25 hectares. Here you can find ancient walls and towers.
Gyeongju is a coastal city in South Korea. Gyeongju was the capital of the ancient kingdom of Silla (57 BC – 935 AD), which ruled about two-thirds of the Korean Peninsula between the 7th and 9th centuries.
Thousands of historic buildings and objects have been maintained throughout the city, truly making it a museum without walls.
Consequently, Gyeongju is the home of the greatest Buddhist art treasures in Korea, and is the nation's most popular destination.
--
Amina Nazarli is AzerNews' staff journalist, follow her on Twitter: @amina_nazarli

Follow us on Twitter @AzerNewsAz
Related News