Several U.S. states and cities proclaim May 28th as Azerbaijan National Day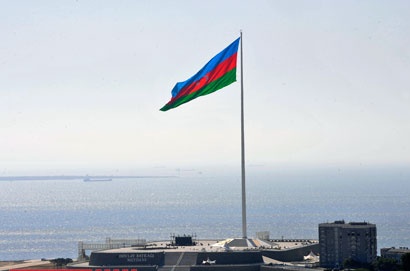 Governors of the U.S. states of Hawaii and New Mexico, as well as Mayors and City Councils of seven California cities, and City Council of Salt Lake City, the capital of the State of Utah, have issued proclamations declaring May 28, 2015 as the Azerbaijan National Day in their respective states and cities.
All proclamations were sent to the Consulate General of Azerbaijan in Los Angeles.
In their proclamations, the Governors of Hawaii and New Mexico note that the Azerbaijani people established in 1918 the first-ever secular democracy in the entire Muslim world. The Governors stress that "during the short period of independence Azerbaijan granted all people the right to vote regardless of race, gender, ethnicity, and religion, becoming the first Muslim nation to grant women equal political rights with men, an accomplishment preceding the U.S." They also highlight that after the restoration of its freedom and independence in 1991, "the Republic of Azerbaijan has consolidated its sovereignty and independence, and has become a staunch ally and strategic partner of the U.S. in the critically important Caspian region."
Mayors and City Councils of such California cites as Irvine, San Diego, San Jose, Santa Monica, South Gate, Stockton and Torrance as well as the Mayor of Salt Lake City of the U.S. State of Utah passed similar proclamations declaring May 28, 2015 as the "Azerbaijan National Day" in their cities and encouraging their residents to celebrate Azerbaijan's Republic Day.
The President of the Senate of the U.S. State of Oregon Peter Courtney also issued a proclamation joining Azerbaijani people's Republic Day celebration, and praising Azerbaijan's rapid development and its comprehensive assistance to the U.S. in the fight against international terrorism.
The Governor of U.S. State of Washington Jay Inslee extended a warm congratulatory letter, which says inter alia: "National Day is a wonderful opportunity to reflect on Azerbaijan's rich history as the first democratic country in the Muslim world. Throughout history, Azeris, including a growing Azeri American population, have made many contributions to literature, the arts and sciences, and sports. As you commemorate this significant anniversary, I hope you will also celebrate the richness of Azeri culture."
Also Congresswoman Kyrsten Sinema of the U.S. State of Arizona proclaimed May 28 as the "Azerbaijan National Day" in her 9th Congressional District, which includes Arizona's capital city of Phoenix as well as many other important cities.
AzerTac state news agency reported
---
Follow us on Twitter @AzerNewsAz