Shusha - the gem of Karabakh. 23 years under Armenian occupation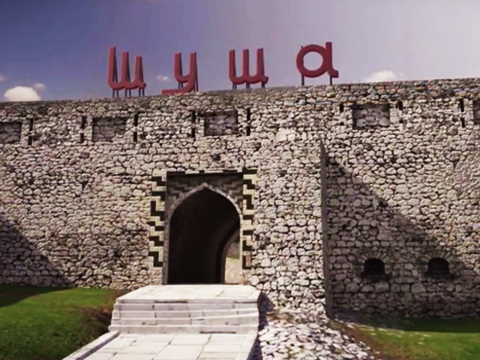 By Mushvig Mehdiyev
23rd year has passed since the Armenian forces invaded and occupied Azerbaijan's Shusha region. The fall of Shusha came as the last stage of Armenia's military occupation of the Nagorno-Karabakh region - part of Azerbaijan's historical and internationally recognized territory.
On May 8, 1992, backed by the Soviet 336th regiment, the Armenian troops managed to overpower Shusha. The occupant forces killed 195 civilians. Some 165 people were wounded and over 22,000 were displaced as the result of this brutal campaign. The fate of an estimated 68 Azerbaijani nationals remains unknown to this day after they were taken hostage by Armenian troops.
Shusha region was one of the ancient and historical cradles of Azerbaijani culture, with its rich cultural monuments, famous artists and thinkers. Whether in the fields of music, arts, architecture, literature or other, Shusha was a jewel of Azerbaijan, a source of pride and cultural center.
Ancient Shusha was founded by famous Azerbaijani Khan Panahali in the middle of the 18th century on the highest site of the Karabakh province. The city was also called Panahabad in honor of its founder, Khan.
Shusha's strategic and geographic position turned it into a political, economic and cultural hub since its very establishment. Many castles, mosques, palaces and cultural centers were built during the reigns of Panahali Khan and his son Ibrahim Khalil Khan in Karabakh Khanate.
Azerbaijan's culture suffered a huge blow with Shusha's occupation in 1992. Armenian invaders pillaged and looted 8 museums, 31 libraries, 17 cultural clubs and 8 culture houses in the region. A total of 279 religious and 104 historical and cultural monuments were destroyed in Shusha during and after the occupation.
The Gala walls, Ganja gates, the Castle of Panahkhan, the Library of Panahkhan, Govharaga mosque, Saatly mosque, the Castle of Agabeyim Aga, Caravanserai, the Khan Palace, as well as the Khan Cave, the Gakhal Cave, and Shusha Castle were looted recklessly by Armenian troops.
The subsequent pillage of the Shusha museum - with its 5,000 exhibits, was in fact the deliberate annihilation of Karabakh's 250-year-long history by Armenia.
But the 1992 aggression was not Armenia's first attempt to destroy Shusha. In 1920 the region faced one of Armenia's earliest attacks against Azerbaijan when Armenian dissidents, paid by the Bolsheviks, sought to promote unrest in the region to accomplish their masters' plan. The idea was to destabilize Azerbaijan and leave the country open for a foreign invasion.
Shusha's importance for Azerbaijan was not limited to its political and economic weight. The region was home to a great number of poets, writers, musicians, actors and people of culture from the Caucasus, the Middle East and Central Asia. At that time Shusha was often described as the Caucasus conservatory and it became known as a school of vocal art. In fact, researchers compared the importance of Shusha for the history of Oriental music to that of Italy for Europeans. The first music school was established in Shusha in the 1870s. Shusha was also known for its literary meetings.
The greatest Mugham singers of Azerbaijan were born and raised in Shusha. Phenomenal and genius Mugham singer Khan Shushinski, who was also called "uncle Khan", is a priceless gem of Azerbaijan's rich music treasure. Moreover, Jabbar Garyagdioglu, Bulbul were also Shusha-born singers, whose fame traveled beyond Azerbaijan's borders, attracting music lovers from all over the region. The greatest composer of Azerbaijan, the founder of the opera in the Eastern world, Uzeyir Hajibeyli, was one of such irreplaceable persons Shusha gifted to Azerbaijani music.
Armenia's cultural vandalism led to the destruction of the monuments of Hajibeyli, Bulbul, as well as the famous poetess of Shusha, Khurshudbanu Natavan, when Armenia opened fire on such cultural relics.
Shusha was also famous for its most picturesque nature. Visitors from both Azerbaijan and foreign countries have always been enchanted by the unique natural beauty of this city.
The pure and fresh air in Shusha made it an attractive destination for tourists. The Turshsu summer pastures, the Shakilli, Isa and Yukhari Dashalti springs, and the well-known Jidir Duzu valley were extremely popular among local people and visitors.
When it comes to the Khari Bulbul (orchis), a matchless and unique flower, Shusha is the first and only region in the world where it can be found. The mountains of Shusha hosted the unparalleled flower which looks like as if a nightingale is sitting on top. This second to none endemic flower is also extensively used as a healing herb.
"Shusha was the cradle of pure natural beauty and rich culture," Shusha citizen and witness of the city's occupation Vugar Kazimov told AzerNews.
"One of Azerbaijan's most prominent artists was really taken by Shusha's spectacular beauty when he was sent to draw a paysage dedicated to Azerbaijan's nature. The city then consisted of 17 blocks each with its own mosques, baths and springs. Shusha was built as a castle with a unique infrastructure, on a rare geographic position. The oxygen-rich air was sparse and ultimately beautiful. Azerbaijani culture lived its most progressive days in Shusha, next to other historical destinations in Azerbaijan," Kazimov said.
Referring to Shusha's occupation by Armenia, he said it was a sudden and insidious attack that collapsed the invincible Shusha fortress.
"Numerous mercenaries from various countries took part in the armed occupation of the city. Shusha was not an easy bite to eat. Heavy artillery shelling followed by the Armenian army's forcible invasion ended in the city's occupation despite Azerbaijanis' brave resistance. Many people were killed or injured," he noted.
The 23-year-long occupation of Shusha is the very result of Armenia's ongoing aggression against Azerbaijan.
Being under occupation does not mean that Shusha has been forgotten, said Kazimov, adding that "each Shusha citizen and every Azerbaijani live with the love of Shusha in their hearts. We believe that our native city will come back to us soon".
Today occupied Shusha faces a severe eco-terrorism by occupant Armenia. The natural resources of the region are being plundered and appropriated brutally by the Armenians. Following the occupation, Armenians have abused the natural sources of facing stone, clay, construction stone, as well as fresh underground waters and mineral waters for their own purposes, subjecting Shusha's nature to reckless and systemic destruction.
Azerbaijan's leadership has year on year intensified its efforts to end the occupation in Nagorno-Karabakh, keeping a peaceful settlement as a top priority. However, Baku announced repeatedly that it is universally ready for an armed solution of the conflict should the need arise.
Azerbaijan's internationally recognized Nagorno-Karabakh territory became a conflict zone following Armenia's aggression in the early 1990s. As a result of Armenia's armed invasion, 20 percent of Azerbaijan's territory fell under Armenia's occupation.
- -
Follow Mushvig Mehdiyev on Twitter: @Mushviggo
Follow us on Twitter: @Azernews