Tank units of Azerbaijani armed forces conduct universal drills - VIDEO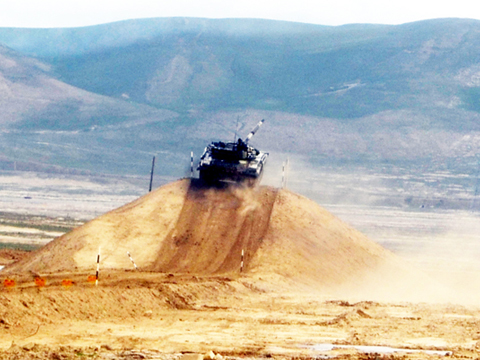 By Mushvig Mehdiyev
Tank units of the Azerbaijani armed forces conducted a drill in a military training polygon, the Defense Ministry reported on March19.
As part of the universal exercises, tank units carried out several tasks on overcoming the conditional obstacles by means of various maneuvers.
United forces of all tank units of the Azerbaijani army demonstrated their fighting efficiency by overcoming a territory with conditional obstacles, a mined zone, a bridge and an anti-tank ditch along with an escarpment.
In an attacking phase of the drill, the tanks fired and destroyed other tanks, anti-tank ambushes and also a helicopter.
Defense Minister, Zakir Hasanov and Senior Deputy Defense Minister, Chief of Staff of the Army, Najmaddin Sadigov observed the exercises in person.
Colonel-General Hasanov expressed his satisfaction with the drill and gave further instructions to involve the tank units in more intensified and serious exercises in the future.
As part of its efforts to boost its fighting capacity amid the Nagorno-Karabakh conflict with Armenia, the Azerbaijani armed forces team up for regular military drills annually.
Earlier in February, the Azerbaijani forces held the large-scale operational and tactical exercises involving 15,000 personnel, 300 armored vehicles, over 200 means of missile and artillery troops and 20 aircrafts of the air forces, air defense units and sophisticated anti-aircraft missile complexes.
Azerbaijan, who increased its arms imports by 249 percent over the past ten years, is the second arms importer in Europe following the United Kingdom, according to SIPRI, Stockholm International Peace Research Institute.
Global Firepower, a center providing a unique analytical display of data concerning today's world military power, ranked Azerbaijan 50th among 106 countries in its most recent report, where it showed that Azerbaijan has 314 tanks at its disposal.
Azerbaijan, whose 20 percent of internationally recognized territory is under Armenian occupation, has boosted its fighting capacity in an effort to liberate its lands. It has set this mission as its top priority in 2015.
Armenia has ignored all international calls to withdraw from the Nagorno-Karabakh and seven other adjacent regions. Armenia fought a lengthy war against Azerbaijan in early 1990s, claiming the lives of hundreds of ethnic Azerbaijanis. Armenia keeps under control one fifth of Azerbaijan territory. Such military occupation caused over a million Azerbaijanis to live as IDPs and refugees in their homeland.
- - -
Follow Mushvig Mehdiyev on Twitter: @Mushviggo
Follow us on Twitter: @AzerNews