NGOs record in Azerbaijan exemplary model in world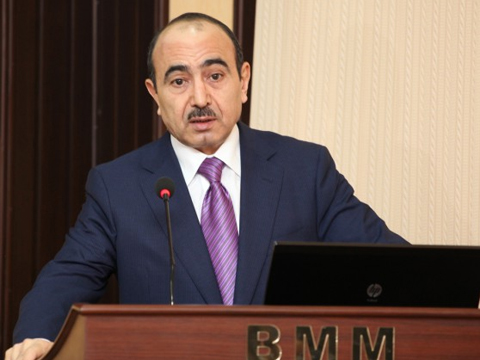 By Mushvig Mehdiyev
The activities of non-governmental organizations in Azerbaijan are probably the best exemplary model in the world notwithstanding the biased assessments of some foreign bodies, said a top Azerbaijani official.
The Azerbaijani government has set a goal of building a developed society and now it is successfully taking all steps to reach this goal, said Ali Hasanov, Head of the Public and Political Issues Department of Presidential Administration, at a press conference on January 22 dedicated to the annual report of the Council of State Support to NGOs under the President of Azerbaijan.
"Every condition has been created for free activities of the NGOs in Azerbaijan. No one can say that there are certain political obstacles in the way of allocating a grant in a particular field," Hasanov said.
"The council members assess the appeal of each organization separately and then allocate a grant," he added.
Hasanov said the NGOs, state bodies, foreign organizations, as well as press outlets and foreign donors must respect Azerbaijan`s laws. "If the law is bad, it could be discussed and changed. But, this does not allows anyone to disobey it," he noted.
Hasanov went on to say that Azerbaijan doesn't fall behind any western country in terms of media freedom, transparency, democracy and the protection of human rights.
"The situation in no country is better than ours. Of course, we don`t claim that Azerbaijani society is the most perfect one. We even don`t claim that there are no problems in Azerbaijan, and the Azerbaijani society is guaranteed against any problems. In fact , no country in the world can claim this," he noted.
Meanwhile, Azay Guliyev, Head of the Council of State Support to NGOs under the President of Azerbaijan, said the council was successful in 2014 in terms of implementing its targeted projects.
"The council allocated $3.7 million to the implementation of 286 projects which covered holding 640 training courses and 287 seminars, publishing 23 books, as well as screening 8 movies and launching 5 web-sites. Azerbaijan's NGOs have created special corners dedicated to Nagorno-Karabakh in several European cities.
About 27 projects realized by the NGOs in 13 foreign cities have promoted Azerbaijan's realities and culture. The NGOs have widely informed the world community about the Khojaly genocide, Guliyev said.
- - -
Follow Mushvig Mehdiyev on Twitter: @Mushviggo
Follow us on Twitter: @AzerNews