18 November 2014 12:38 (UTC+04:00)
1 426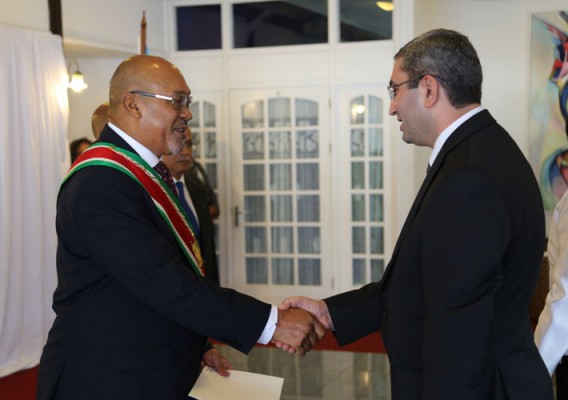 Azerbaijan's Ambassador to Suriname Elnur Sultanov has presented his credentials to Surinam President Dési Bouterse, AzerTag state news agency reported.

Sultanov conveyed greetings of President Ilham Aliyev to President Dési Bouterse.

Sultanov said he, as the first Azerbaijani ambassador in Suriname, would do his best for developing relations between the two countries, adding there was potential for bilateral cooperation.

President Dési Bouterse asked the ambassador to deliver his greetings to President Aliyev. He said Suriname attached great importance to the cooperation with Azerbaijan and expressed confidence that the ties of both countries would strengthen in the future.

Sultanov, as part of the visit has met Speaker of the National Assembly of Suriname Jennifer Geerlings Simons, Foreign Minister Winston Lackin, Sport and Youth Minister Ismanto Adna and Natural Resources Minister Jim Hok.
Related News