Azerbaijan embassy to U.S. condemns Armenia's provocative moves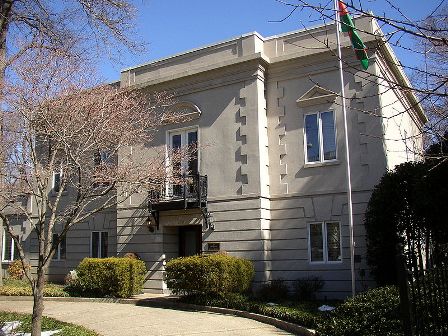 By Sara Rajabova
Azerbaijan's embassy to the United States has condemned Armenia over its provocative moves against Azerbaijan.
The Armenian armed forces have launched numerous large-scale attacks against Azerbaijan both across the Armenia-Azerbaijan border and along the Line of Contact, the Embassy said in a statement.
The Embassy said Armenia's irresponsible and provocative actions, which have led to a major escalation of violence and losses on both sides, prove once again that the protracted and illegal Armenian occupation of Azerbaijan's internationally-recognized territory remains the main threat to peace and security in the South Caucasus.
The Armenian armed forces have intensified the ceasefire violations on the contact line of Armenian and Azerbaijani troops during the recent days.
The Armenian reconnaissance and sabotage groups attacked the Azerbaijani army's positions in different parts of the contact line and border from July 31 to August 1, which led to the heavy clashes between the troops of two countries.
The Azerbaijani army lost 13 servicemen in the heavy battles in the history of the ceasefire. Several others were also injured. Despite what is said by Armenian sources, they suffered more losses.
The embassy said Armenia's intransigent approach to the peace talks as well as its refusal to address the humanitarian consequences of occupation, such as the displacement of one million civilians as a result of thorough ethnic cleansing, have long undermined peace negotiations and endangered regional stability.
"Armenia continues to propagate regional risks rather than acting as a responsible, independent nation committed to a safe and prosperous future for its own citizens and the region," the statement reads.
The embassy said some tangible progress on the ground, including the withdrawal of Armenian forces and positive changes to the status quo, is the key to a just, lasting and peaceful settlement of the conflict.
"Equally important is an unequivocal policy by the international community supporting territorial integrity of states and rejecting aggressive separatism and ethnic cleansing," it said.
The international community should impose sanctions against Armenia to reinforce its stance against the country's increasingly violent acts and its illegal occupation of Azerbaijani territory, according to the embassy.
"As the global security environment is facing renewed challenges, respect for fundamental principles of international law and consistency in how the international community approaches protracted conflicts, including the Armenia-Azerbaijan conflict, remain the most responsible and constructive courses," the embassy noted.
The precarious cease-fire between Azerbaijan and Armenia was reached after a lengthy war that displaced over a million Azerbaijanis and has been in place between the two South Caucasus countries since 1994.
Since the hostilities, Armenian armed forces have occupied over 20 percent of Azerbaijan's internationally recognized territory, including the Nagorno-Karabakh region and seven surrounding districts.
The UN Security Council has adopted four resolutions on Armenia's withdrawal from the Azerbaijani territory, but they have not been enforced to this day.