Azerbaijan has one of lowest number of crime rates in world: Minister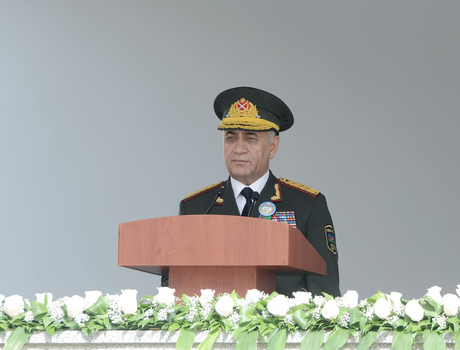 By Jamila Babayeva
Azerbaijan's average number of crimes per 100.000 people was 231 during the past ten years, which is one of the lowest rates compared with other countries'.
Interior Minister Colonel-General Ramil Usubov made the remarks at an event at the Police Academy of the Ministry dedicated to the Day of Police on July 2.
"Azerbaijan has been one of the leading countries in the field of public order and safety in the past several years," he said.
Usubov said the reforms conducted recently allowed the government to bring the fight against crime to a new level. "The crime detection rate was 90 percent during 2013 and six months of 2014, ten percent of which were serious and particularly serious crimes," he said. "Three thousand of criminal groups were neutralized, 12,000 firearms were confiscated which were illegally kept by the population. All these achievements are the results of successful works made in the legal sphere, the economic growth in the country and cooperation with civil society."
He went to say that the budget of the ministry increased by 11 times, 319 social facilities were built for employees of the structural subdivisions of the ministry, several local police departments and interior troops were built and more than three thousand vehicles were purchased over the past 11 years. "Furthermore, more than 40 information systems were created to ensure public order, road traffic safety and so on," he added.
Usubov said 992 policemen and military personnel were honored with state awards since the country's independence.
Addressing the event, Head of the Department for Work with Law-Enforcement Bodies at the Presidential Administration of Azerbaijan Fuad Alasgarov said after the independence, some decisive measures were taken by the bodies of internal affairs in the fight against crime to protect public order. He added that the measures have significantly decreased the crimes rate in the country.
"The challenges of today's world require a more responsive approach to destructive processes, particularly separatism and religious extremism, and a strong will to ensure political stability and protection of statehood," he added.
Alasgarov praised the works of the Azerbaijani police, which always protect public order and stability.
"No development plan can be pressed ahead in unstable conditions. Stability is the main condition for development," he said. "On the background of the world's dangerous processes, Azerbaijan is considered one of the most stable countries, where people's safety is ensured at a high level. "Certainly, the role of the bodies under Interior Ministry in ensuring stability is undeniable," he said.
He noted that special attention was given to social protection of police officers over the past decade. "The head of state has signed nine orders for this purpose and this attention and care will continue," he added.
Alasgarov said the tasks and requests set by President Ilham Aliyev are adequately executed by the bodies of internal affairs and the fight against crime in the country is carried out with great professionalism.