U.S. hopes for meeting of Azerbaijani, Armenian presidents soon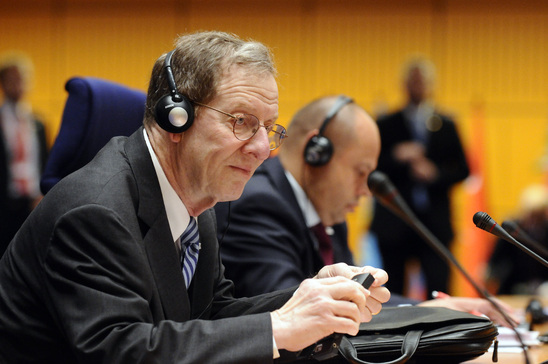 By Sara Rajabova
The United States hopes that Azerbaijani and Armenian presidents will meet soon.
"We hope that it will happen soon. But there are no dates yet at this point," U.S. Ambassador to Azerbaijan Richard Morningstar told reporters on June 17.
Presidents Ilham Aliyev and Serzh Sargsian last time met in Vienna on November 19 to discuss the peaceful settlement of the Nagorno-Karabakh conflict.
Morningstar stressed the importance of meeting of the Azerbaijani and Armenian presidents in the settlement of the Nagorno-Karabakh conflict.
"As I have said many times, the U.S. thinks it is very important that two presidents continue to meet and talk together about concrete steps that will finally reach, could finally reach the resolution of the Nagorno-Karabakh conflict," Morningstar stressed.
The Nagorno-Karabakh conflict emerged in 1988 when Armenia made territorial claims against Azerbaijan.
Since a lengthy war in the early 1990s that displaced over one million Azerbaijanis, Armenian armed forces have occupied over 20 percent of Azerbaijan's internationally recognized territory, including Nagorno-Karabakh and seven adjacent regions.
The UN Security Council's four resolutions on Armenian withdrawal have not been enforced to this day.
Peace talks, mediated by Russia, France and the U.S. through the OSCE Minsk Group, are underway on the basis of a peace outline proposed by the Minsk Group co-chairs and dubbed the Madrid Principles. The negotiations have been largely fruitless so far.