Defense Industry Ministry output surpass 121 mln manats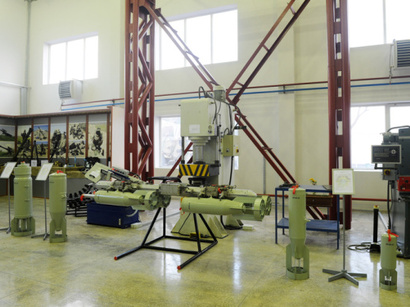 By Aynur Jafarova
The report of the Azerbaijan's Cabinet of Ministers suggest that the country's Defense Industry Ministry produced some 121.2 million manats worth of defense-purpose products and delivered them to customers in 2013.
Also, the ministry implemented recycling work worth 315,700 manats.
Some 1.18 million manats worth of repairs was also done in the previous year.
Defense Industry Ministry exported some 96 million manats worth of products in the mentioned period.
As of today, the assortment of reclaimed defense products exceeds 900 units.
Also, Azerbaijan has prepared a long-term plan for its defense industry in 2014. The ministry plans to produce mortar guns of various calibers, tracks for armored vehicles, prismatic binoculars, minesweepers, patrol vehicles and other goods this year.
Azerbaijan is strengthening its military power and defense capabilities on a yearly basis. The establishment of the Ministry of Defense Industry has been very effective in strengthening the defense potential of the country.
The defense products output in Azerbaijan surged by more than eight-fold during 2005-2013.
The country's defense industry ministry has started mass production of a variety of munitions in recent years. In 2013, Azerbaijan increased its defense production by 3.7 percent compared to 2012.
The Defense Industry Ministry closely cooperates with more than 60 companies from various countries.
Also, the country's defense industry products were put on display at various exhibitions and attracted significant attention. At its first exhibition in 2009, Azerbaijan put on display only 27 items, however, the number has reached to 130 units in Turkey exhibition.
Gurza patrol vehicles, Yalguzag sniper rifles, attack machine gun of HP-7.62 type were put on display at the IDEF-2013 international exhibition held in Istanbul in May 2013 for the first time.
In September 2014, Azerbaijan will host the ADEX-2014 International Defense Industry Exhibition which will be the first event of its kind in the region.