Azerbaijanis worldwide to prove "Armenian genocide" actually a myth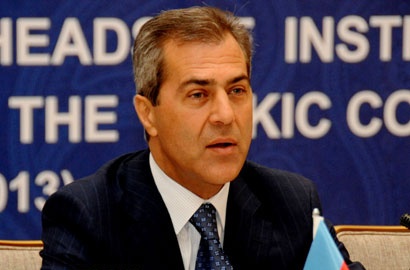 By Sara Rajabova
There are major efforts underway across the world aiming to prove that the "Armenian genocide" was actually a myth, Chairman of Azerbaijani State Committee on affairs with Diaspora Nazim Ibrahimov told Trend news agency on December 30.
Armenians has long developed plans on the recognition of the Armenian genocide. In 2015, they are going to celebrate the 100th anniversary of the so-called Armenian genocide, he added.
He said the State Committee and the Azerbaijani Diaspora organizations are undertaking a number of activities in order to prevent it.
In fact, the victims of the genocide were not Armenians. They were Azerbaijanis and Turks. This work will be continued in 2014, he noted.
"This question requires broader activities of diaspora organizations. We, as the State Committee, are coordinating the work," Ibrahimov said.
He said even if the Armenians achieved something, it will not be an indicator of their strength.
"Maybe Armenians will achieve something. Their patrons, the states sympathizing, implement its policies and have their interest. But it does not mean weakness of Turkic diaspora. "Justice for Khojaly" campaign is held in several states of the world at the initiative of Leyla Aliyeva, Vice-President of Heydar Aliyev Foundation," Ibrahimov said.
He stressed that the parliaments, high bodies of most countries have already recognized the events on February 26, in 1992 as genocide, which means destruction of "Armenian myth."
In 1992, the town of Khojaly, situated within the administrative borders of the Nagorno-Karabakh region of Azerbaijan, came under intensive fire from the towns of Khankendi and Askeran already occupied by the Armenian armed forces.
613 civilians, including 106 women, 70 elderly and 83 children, were killed in the massacre. A total of 1,000 civilians were disabled. Eight families were exterminated, and 25 children lost both parents, while 130 children lost one parent. Moreover, 1,275 innocent people were taken hostage, while the fate of 150 remains unknown.
"Real genocide was committed in Khojaly. Our activities, including extensive work of Heydar Aliyev Foundation's President Mehriban Aliyeva in this sphere, the work carried out by Leyla Aliyeva, help to inform the world community about Azerbaijani realities, recognition of the Khojaly genocide, the destruction of the "Armenian myth," Ibrahimov said.
He said destruction of the "Armenian myth" will lead to the destruction of the myth about the "Armenian genocide."
Armenia commemorates the alleged "Armenian genocide" on April 24 each year. Armenia and the Armenian lobby claim that Turkey's predecessor, the Ottoman Empire, committed genocide in 1915 against Armenians, an allegation dismissed by Ankara.
Their efforts have even resulted in the recognition of the "Armenian genocide" by the parliaments of several countries.
Historians note that during those developments, Armenians began an uprising, taking up arms against Turkey. To counter those actions, the Ottoman Empire decided to resettle the Armenians. The latter claim that their predecessors were subjected to genocide in the process.