Azerbaijan again warns against ethnic Armenian Syrians' settlement in occupied territories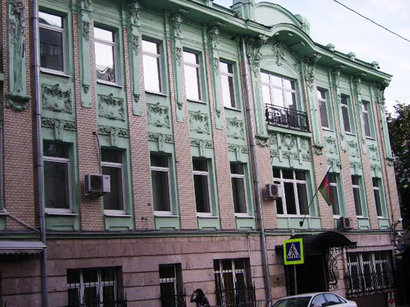 By Sara Rajabova
Baku is concerned over Armenia's actions on settling Syrian citizens of Armenian descent to the occupied territories of Azerbaijan, the Azerbaijani embassy in Russia said.
The embassy noted that Armenia continues its illegal actions, especially efforts aimed at protracting the military occupation and its consequences and artificially changing the demographic situation in Azerbaijan's occupied territories, thus ignoring the international community's position which condemns such activities.
Recently about 200 Armenian refugees from Syria were settled in the occupied Zangilan region, which was "another clear evidence of the illegal settlement policy pursued by the Armenian state," a document received by the Russian news agency RIA Novosti said.
The embassy said that thereupon Azerbaijan hopes that the international community will take a more resolute approach for a swift solution of this inveterate problem and to address the "attempts to consolidate the results of military occupation, including through the implementation of illegal migration".
Head of the Azerbaijani mission to the United Nations Agshin Mehdiyev earlier expressed concern over the actions taken by Armenia with a view to settling Syrian refugees to the occupied territories of Azerbaijan.
He said that undoubtedly, attempts to address the needs of refugees from Syria at the expense of hundreds of thousands of Azerbaijani displaced persons cherishing the hope of returning to their homes are illegal and cannot be tolerated or accepted under any circumstances.
According to the Armenian government, more than 7,000 Syrian Armenians have already expressed the desire to move to Armenia, Eastbook.eu portal reported in August.
The Armenian government started constructing apartment buildings for Syrian refugees in May this year, the same source said.
Azerbaijan has repeatedly expressed serious concern over the settlement of Syrian Armenians in its Nagorno-Karabakh region that has long been occupied by Armenian armed forces.
Earlier, Deputy Foreign Minister Araz Azimov said that Azerbaijan is not opposed to the placement of Syrian Armenians in other areas, but is absolutely against the accommodation of Armenian refugees from Syria in Nagorno-Karabakh.
For over two decades, Azerbaijan and Armenia have been locked in conflict which emerged over Armenia's territorial claims against its South Caucasus neighbor. Since a war in the early 1990s, Armenian armed forces have occupied 20 percent of Azerbaijan's territory, including Nagorno-Karabakh and seven surrounding regions. A fragile ceasefire has been in place since 1994, but long-standing efforts by US, Russian and French mediators have been largely fruitless so far. Armenia has not yet implemented the U.N. Security Council's four resolutions on its pullout from the neighboring country's territories.