Azerbaijani parliament ratifies agreement on TANAP gas pipeline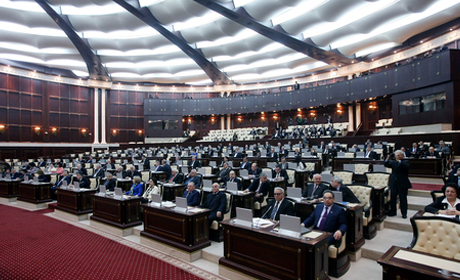 The Azerbaijani parliament ratified an agreement on the construction of a separate gas pipeline to transport gas to Turkey and through its territory, as well as an agreement on the Trans-Anatolian gas pipeline system (TANAP) between the governments of Azerbaijan and Turkey on Tuesday.
Deputy Speaker of the Azerbaijani parliament, Valeh Alesgerov, said during the discussions, Azerbaijan, which previously had no access beyond the country's borders, currently transports its hydrocarbons to the world market through seven pipelines.
The TANAP project envisages the construction of a gas pipeline from Turkey's eastern border to the western border to transport gas from Azerbaijan's offshore Shah Deniz field to Europe through Turkey.
Azerbaijani state energy firm SOCAR owns 80 per cent in the TANAP project, while Turkish BOTAS holds the remaining 20 per cent.
Initial capacity of TANAP is expected to be 16 billion cubic meters a year. Around 6 billion cubic meters will be delivered to Turkey, while the rest will be transported to Europe.
According to preliminary estimates, the cost of the gas pipeline will be around $7 billion. The construction of the pipeline is scheduled to begin in 2014 and finish in 2018.