Current level of religious and spiritual relations between Azerbaijan & Russia has been discussed [PHOTOS]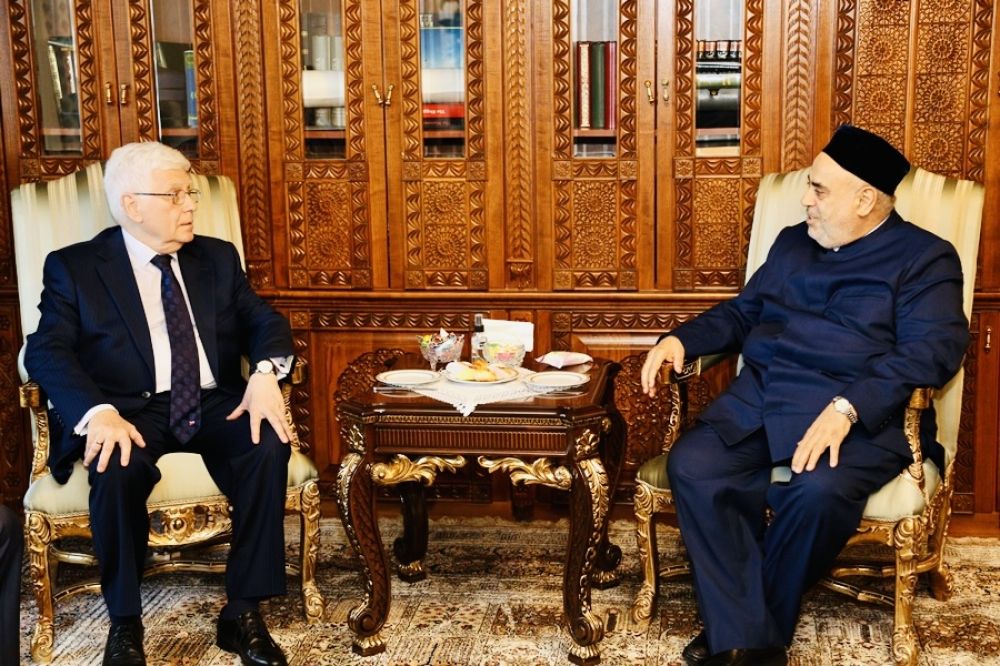 On June 7, the chairman of the Caucasus Muslims Board (CMB), Sheikhulislam Allahshukur Pashazade met with the Russian Ambassador to Azerbaijan, Mikhail Bocharnikov, Azernews reports, citing the press service of the CMB.
In the meeting held on the occasion of the completion of the diplomatic activity of the ambassador, an agreement was expressed regarding the current level of political, economic, cultural, and humanitarian relations between Azerbaijan and Russia, as well as religious and spiritual relations. Sheikhulislam appreciated the ambassador's efforts and practical contributions in this direction during his activity in Azerbaijan and wished him success in his future activities.
Ambassador Mikhail Bocharnikov expressed that he would always keep pleasant memories of his activities in Azerbaijan in his heart. He emphasized the special importance of the exemplary example of interreligious dialogue and cooperation between the religious leader of the Caucasian Muslims, Sheikhul Islam Allahshukur Pashazade, and Patriarch Kirill of Moscow and All Russia.
The chairman of the CMB, in his turn, stated that he values these relations, and sincerely recalled his recent meeting with the Russian Patriarch Kirill in Kazan, the capital of the Republic of Tatarstan.
At the meeting, the dear memory of the late Archbishop Alexander of the Baku and Azerbaijan Diocese of the Russian Orthodox Church was commemorated and his contributions to the development of Azerbaijan-Russia spiritual relations over many years were highly valued.
At the end of the cordial meeting, Sheikhulislam A. Pashazade and Ambassador M. Bocharnikov, who has completed his diplomatic activity, presented mutual gifts.
--
Follow us on Twitter @AzerNewsAz