Commemoration ceremony held to honor martyr-journalist Maharram Ibrahimov [PHOTOS]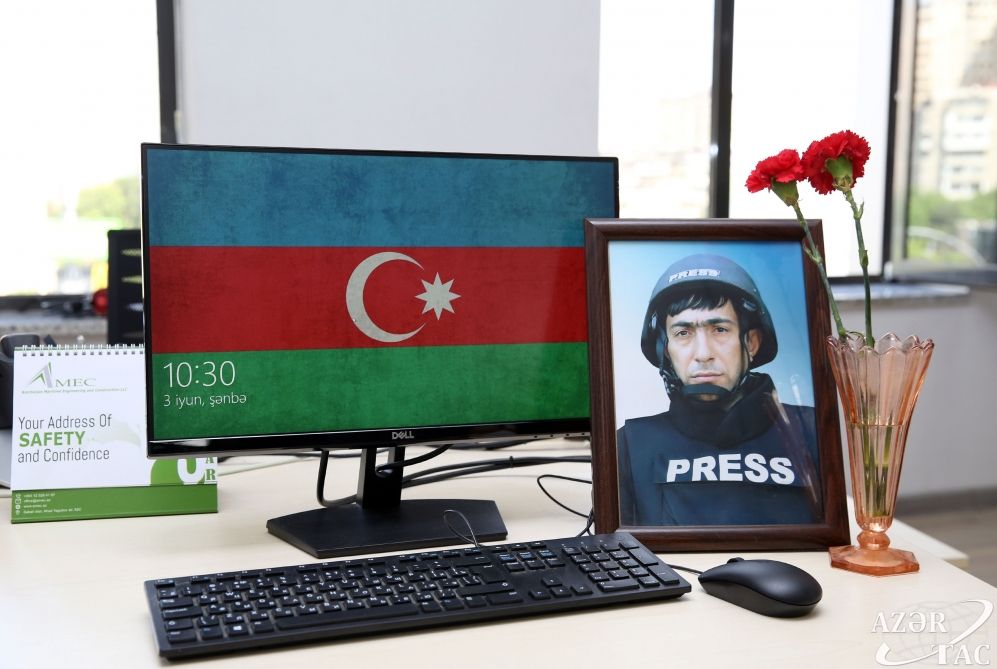 A commemoration ceremony was held for journalist Maharram Ibrahimov, who was martyred by a landmine in the village of Susuk of Kalbajar district on June 4, 2021, when performed his professional activities, Azernews reports.
First, bouquets of flowers were laid in front of the memorial corner of Maharram in AZERTAG, and the memory of the martyrs who sacrificed themselves for the freedom of Azerbaijan was commemorated with a minute of silence.
Speaking at the ceremony, the Chairman of AZERTAG, Vugar Aliyev, talked about the life path and human qualities of Maharram Ibrahimov, who started working as a reporter at the age of 22. It was noted that during the 44-day Patriotic War, AZERTAG employees sent to the frontline filmed day and night under enemy fire. After the end of the war, the members of the film crew, who worked for months in the liberated lands, went from village to village and from house to house, recording the atrocities committed by Armenian armed groups in the occupied territories. Images of Armenian vandalism, destroyed homelands were archived by transferring them to the memory of a photo and video camera. Maharram Ibrahimov had a particularly great contribution in this work. By the order of President Ilham Aliyev, martyred journalist Maharram Ibrahimov was awarded the 3rd degree "For service to the country" order.
Deputy Chairman Dagbey Ismayilov made a speech and said that Maharram was sent to the frontline regions from the first day of the Patriotic War and continued his activities until the day he was martyred. He prepared and sent reports from the cities, towns and villages destroyed by Armenians in Agdam, Fuzuli, Jabrayil, Zangilan, Gubadli and other areas that were freed from occupation. Maharram was fulfilling his duty as a military journalist. His attitude to work, sense of responsibility, professional activities are a real example for young journalists.
Elvin Movsumov, Gozal Aghayeva, Abdulla Suvar, Sakhavat Guliyev and others who spoke on behalf of the martyr-journalist's colleagues at the ceremony shared their memories of Maharram.
Then a group of members of the collective visited the grave of the martyred journalist Maharram Ibrahimov in the cemetery of Mushfigabad settlement. Colleagues commemorated Maharram with respect, laid a wreath on behalf of the AZERTAC team and arranged flowers in front of the grave. It was noted that Maharram Ibrahimov will live forever in memory, his work as a professional reporter will never be forgotten.
---
Follow us on Twitter @AzerNewsAz