Yukhari Govhar Agha Mosque opened after reconstruction and restoration in Shusha [PHOTOS] [VIDEO]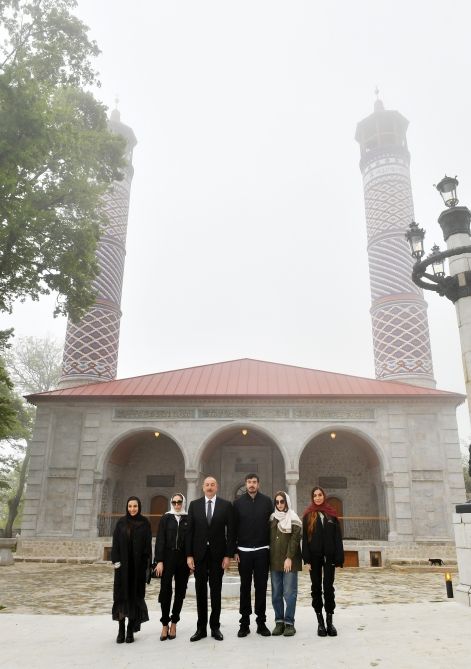 Azerbaijani President Ilham Aliyev, First Lady Mehriban Aliyeva and their family members have participated in the inauguration of the Yukhari Govhar Agha Mosque in Shusha after the reconstruction and restoration works, Azernews reports.
The President and the First Lady also attended the opening of an exhibition dedicated to encyclopedic scientist Mir Mohsun Navvab Garabaghi.
President Ilham Aliyev and First Lady Mehriban Aliyeva were first informed of the works carried out in the mosque.
Restoration of the Yukhari Govhar Agha Mosque was completed in late 2021. The author of the mosque is famous architect Karbalayi Safikhan Garabaghi.
Conservation and restoration works were carried out as per the original design by the consortium of Azerbaijani, Italian and Turkish firms under supervision of Austria's Wehdorn Architekten company. The project was funded by Pasha Holding.
The President, the First Lady and their family members viewed the "Mir Mohsun Navvab Garabaghi - encyclopedic scientist of the 19th century" exhibition in the madrasa located on the territory of the mosque.
---
Follow us on Twitter @AzerNewsAz