Armenian media talk about possible agenda of upcoming Washington meeting of top diplomats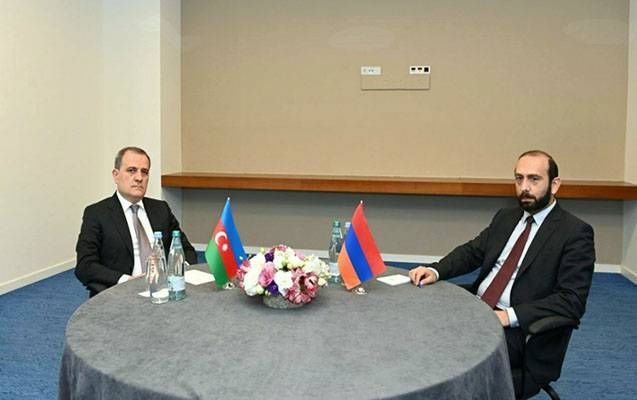 By Sabina Mammadli
Amid Baku's confirmation of the planned meeting of the Azerbaijani and Armenian foreign ministers under the aegis of US Secretary of State Antony Blinken in Washington, Armenian media talks about the agenda of the meeting though the US State Department failed to reveal the agenda of the upcoming meeting.
In an interview with Armenian media outlets, Secretary of the Armenian Security Council Armen Grigoryan said the meeting will look into Yerevan's response to Baku's proposals on a peace treaty between the two countries.
According to him, there are currently two documents on the table, one of which was proposed by Azerbaijan.
"After the publication of the 5-point proposal, they presented Armenia with a version of the peace treaty that we were working on, on the basis of which, the meeting of foreign ministers will be held in Washington next week. Also, there is the Russian proposal, which is a proposal on the parameters of a peace treaty. There is no other one. Thus, it isn't correct to say there is a Western proposal. The West is rather trying to help us find options. At the meeting in Washington, Armenia's responses to the option proposed by Azerbaijan will be discussed," he noted.
Further, the Armenian official stressed that the Azerbaijani proposals do not mention "Nagorno-Karabakh".
Another Armenian source reports that Former US Ambassador to Azerbaijan (1993–97) H. E. Richard Kauzlarich believes that the upcoming meeting in Washington is a message to Putin that the US is still involved in the South Caucasus.
According to him, Washington strives to cease the "carousel" of never-ending forums, in which Azerbaijan and Armenia are involved, and give them an opportunity for a direct conversation.
"I'm not sure what the goals of the US are, other than to send a signal to Moscow and push the parties to get out of this carousel and resume direct negotiations leading to a peace agreement," he said.
He also emphasized that the invitation of foreign ministers instead of the presidents means that Washington aims to assess the results of the Sochi meeting.
Previously, a trilateral format telephone call was initiated by US State Secretary Antony Blinken with Azerbaijani Foreign Minister Jeyhun Bayramov and his Armenian counterpart Ararat Mirzoyan to mull the normalization of ties.
The October 4 phone call was a follow-up to the meeting in Geneva on October 2 that was held as the foreign ministers were tasked by their leaders to draft the wording of a peace treaty as agreed by the Azerbaijani and Armenian leaders in Brussels on August 31 under the auspices of European Union Council President Charles Michel.
---
Sabina Mammadli is AzerNews' staff journalist, follow her on Twitter: @SabinaMmdl
Follow us on Twitter @AzerNewsAz