16 October 2018 10:39 (UTC+04:00)
2 269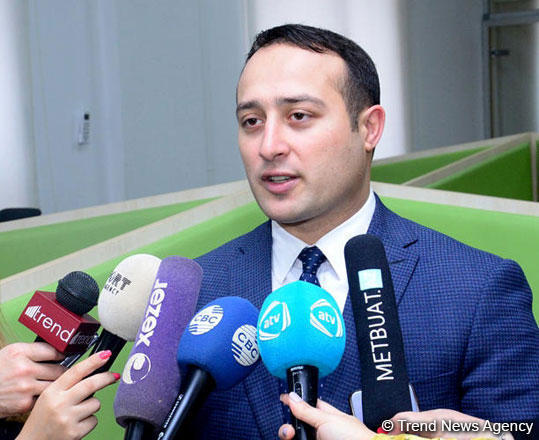 By Abdul Kerimkhanov
Azerbaijan will simplify the process of obtaining visas by citizens of the country to travel to foreign countries, director of the e-Government Development Center Fariz Jafarov told reporters on October 5.
An agreement has already been reached with several European Union (EU) countries and a number of other non-EU countries.
Jafarov recalled that ASAN visa was created in 2016 by the decree of President Ilham Aliyev.
"In the initial period, the concept was that foreign tourists applying for a visa using an electronic portal, could obtain it within three days. Then this period was reduced to three hours. From May 15, 2018, foreigners can also get a visa at the Heydar Aliyev International Airport. Presently, visas are issued to citizens of 15 countries not in three days or three hours, but in less than two minutes. We are further developing this concept and are also working to simplify the process of obtaining a visa for Azerbaijani citizens to travel to foreign countries," Jafarov said.
He also noted that, presently, Azerbaijani citizens should go to an embassy, present their passports and other documents in order to obtain a visa.
"This process is quite long. We are thinking about switching to a new, unique model for our citizens to enter the e-government portal and only choose the country where they want to go. And at the next stage, the e-government portal would enter into operation, that is, the E-government Development Center would provide all necessary documents to the relevant embassy," Jafarov added.
He noted that a model of integration is possible directly to consulates or to intermediary companies.
"Each model is reflected in our concept. In this regard, meetings have been held with many embassies. We are considering various formats that would correspond to the legislation of Azerbaijan, as well as the legislation of the other side," Jafarov said.
ASAN Visa portal designed to simplify a procedure for issuing visas to foreigners and stateless persons wishing to visit Azerbaijan, as well as to ensure immediacy and transparency of this process, was presented to the public in 2016.
Electronic visa is a document for one entry, which determines the period of stay in the country up to 30 days. Electronic visas are issued only to the citizens of the countries, approved by the Foreign Ministry of Azerbaijan, and stateless persons permanently residing in this country.
Also, the ASAN Visa system offers the issuance of group visas to foreign citizens. Group appeals are provided for a minimum of two, a maximum of ten people.
Foreigners and stateless persons, who wish to receive an e-visa, must enter information into the system of ASAN Visa, and, after receipt on acceptance of confirmation, pay online a state fee in the amount prescribed by law "On state duty".
The system of ASAN Visa sends the appeal to the interagency automated retrieval system "Entry-exit and registration". The relevant executive authority verifies the information not later than three days from the time of appeal in "ASAN Visa", checks restriction list of the "Entry-exit and registration".
Then a visa is sent to the e-mail address of the contact person. In case of failure the person is also informed.
The electronic visas are not stuck in the passport but presented together with the passport while crossing the border check-point. Foreigners and stateless persons may apply for a new e-visa only after they will leave Azerbaijan.
Only citizens of 94 countries (or persons residing in these countries) can obtain an electronic visa. The list of countries, which can be found in this link, is approved by the Ministry of Foreign Affairs of Azerbaijan.
---
Follow us on Twitter @AzerNewsAz
Related News