First VP Mehriban Aliyeva: "I will justify confidence in me" [UPDATE]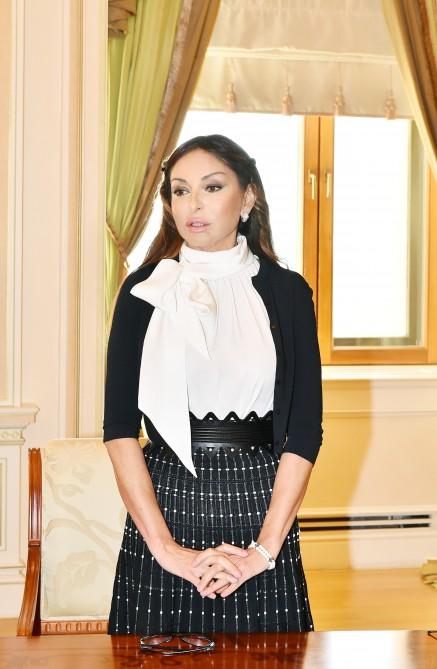 By Trend
Mehriban Aliyeva, who has been appointed the First Vice President of Azerbaijan, thanked President Ilham Aliyev for the high confidence in her, Azerbaijan's AzTV channel reported.
Addressing a meeting of the Security Council, held under the chairmanship of President Aliyev on February 21, Mrs. Aliyeva stressed that she realizes the seriousness of the responsibility she was entrusted being appointed to this position.
"Mr. President, I express my deep gratitude to you for this high confidence in me," she said. "I believe that I will be able to justify this confidence shown by you, Mr. President, and all the people who believe in me," said Mehriban Aliyeva.
"I thank you for your remarks and appreciation of my activity. It is a great honor to deserve such an appreciation," she added. "Your assistance and your support stand behind each success and each achievement you have mentioned."
"Over the past years, your statehood ideas, your patriotism, your faithful, volitional and bold protection of interests of the Azerbaijani state, and your unity with people and with the Azerbaijani nation have been an example for me and for all the people working with me, have been a model directing our activity," she said.
"We are proud that we have been able to make our contribution, even the smallest one, to the recent years' positive trends, changes, development in our country, to elevation of Azerbaijan's authority on international arena," added Mrs. Aliyeva.
"I am sure that a person, irrespective of the position, when choosing a path and a profession, a person should approach work, labor with conscience, should set clear goals and try to achieve them. A person's words and deeds should be in line with each other," she said.
Azerbaijan's First Vice President noted that the Heydar Aliyev Foundation, headed by her, has for 13 years based its activity on the principles of humanism.
"Over the recent years, we have implemented a number of large scale projects. We actively participate in Azerbaijan's social and political life, we realize infrastructure projects. In the meantime, we have never been indifferent to problems of individuals over these 13 years," said Mehriban Aliyeva. "To communicate with people, to listen to them, to help those in need, and to provide moral support is the direct responsibility of each employee of the Heydar Aliyev Foundation and, I believe, the main duty and responsibility of all the people working in state bodies."
"Humanity, compassion, mutual respect and kindness should not be forgotten in our everyday activity. By holding these moral values high, it is possible to achieve the grand victories and to reach the heights,"
"Mr. President, members of the Security Council, I assure you that I will try to build my future activity based on these principles, I will hold the interests of our country and nation above everything else," she said. "I will worthily serve for Azerbaijan."
"Once again, I express my deep gratitude to you for the confidence in me," added Mehriban Aliyeva.
--
Follow us on Twitter @AzerNewsAz