Stop a child killer Sargsyan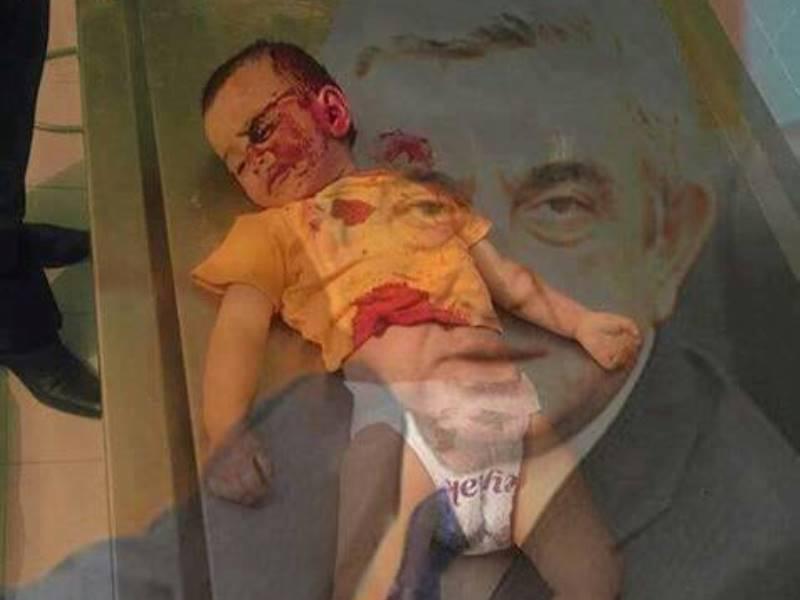 Irrespective of reasons or circumstances, there is no justification to murder of a child.
The world saw another terrible crime against an innocent child -- two-year old Azerbaijani toddler was killed two days ago together with her grandmother by the Armenian armed forces.
Armenian armed forces acting under the command of Commander-in-chief of the troops, Armenian President Serzh Sargsyan, attacked the Azerbaijani village of Alkhanli on July 4.
Little Zahra, who was in arms of her granny on their way back home from a neighbor visit, fell victims of the attack, while another villager was heavily wounded.
Armenia and Azerbaijan are in conditions of war for over 20 years due to Armenia's illegal territorial claims. Armenia keeps under control over 20 percent of Azerbaijan's territory that it occupied as a result of war, which killed over 20,000 Azerbaijanis and resulted in displacement of more than one million people.
War is evil and has its cruel terms, but targeting civilians is a crime even in war conditions. Attacking women and even babies makes no sense even by the convolute logic of armed conflict.
Baku has officially announced that killing civilians and shelling human settlements are an act of vandalism that once again proves the terror essence of the Armenian government.
The fire command was given by the Armenian supreme commander-in-chief and the responsibility lies directly on the political leadership of Armenia, stated the Foreign Ministry of Azerbaijan.
To understand the logic elucidating this most inhuman tactic, one needs to look at what has inspired Armenia's political leadership to do this..
Sargsyan is a "serial killer", who should stand a trial for his countless crimes against Azerbaijani civilians. Nobody has forgotten the foolish statements by Sargsyan, who killed hundreds of people in Khojaly, saying that "with this we wanted to give a lesson to Azerbaijan.
"Before Khojaly, the Azerbaijanis thought that they were joking with us, they thought that the Armenians were people who could not raise their hand against the civilian population. We were able to break that stereotype," Sargsyan told British journalist Thomas de Waal in one of his interviews.
That is what Sargsyan did back in February 1992, killing over 600 people in Khojaly town.
Which "lesson" then he targeted to give this time?
The objective was to revenge for the areas liberated in April 2016 and most importantly spread a fear among civilians, which is perhaps the most powerful weapon for the occupant states throughout history.
Killing children was also supposed to be a response to Azerbaijan's "Great Return", which started with the return of IDPs to the recently liberated Jojug Marjanli village.
Besides, the Sargsyan regime is keen to prolong the talks aimed to solve the long-lasting and bloody Nagorno-Karabakh conflict.
A couple of days ago the OSCE Minsk Group co-chairs visited the region, pushing for a negotiated settlement. Baku once again voiced commitment to peace, but Yerevan is following what looks very much like a terror scenario, using blunt force to prevent the peace.
A reign of terror helped Armenians to occupy the Azerbaijani territories. And now, killing the kids, once again Sargsyan is trying to make Armenia "proud".
It is impossible to imagine international acceptance of war criminals, especially those, who bragged about their crimes as respectable politicians. Shouldn't the child killers be punished?
18-month-old Zahra Guliyeva was killed in Azerbaijan, but there is not an adequate concern from the world politicians, let alone action.
Now the Armenian president relishes the image of killer-winner. He boasts of killing civilians with his own hand. And he encourages his soldiers for more. But, is not it high time for world leaders and UN to denounce the act? The international community needs to react with equal outrage, because the victim of military crime is a little girl.
Sargsyan should be punished and world community should bring the criminal to justice.
The killing of children by a regime determined to justify its illegal actions at any price made that point abundantly clear. Child killers deserve punishment and there is no justification for them.
--
Follow us on Twitter @AzerNewsAz