Azerbaijani cuisine wins World Gourmand Cookbook Award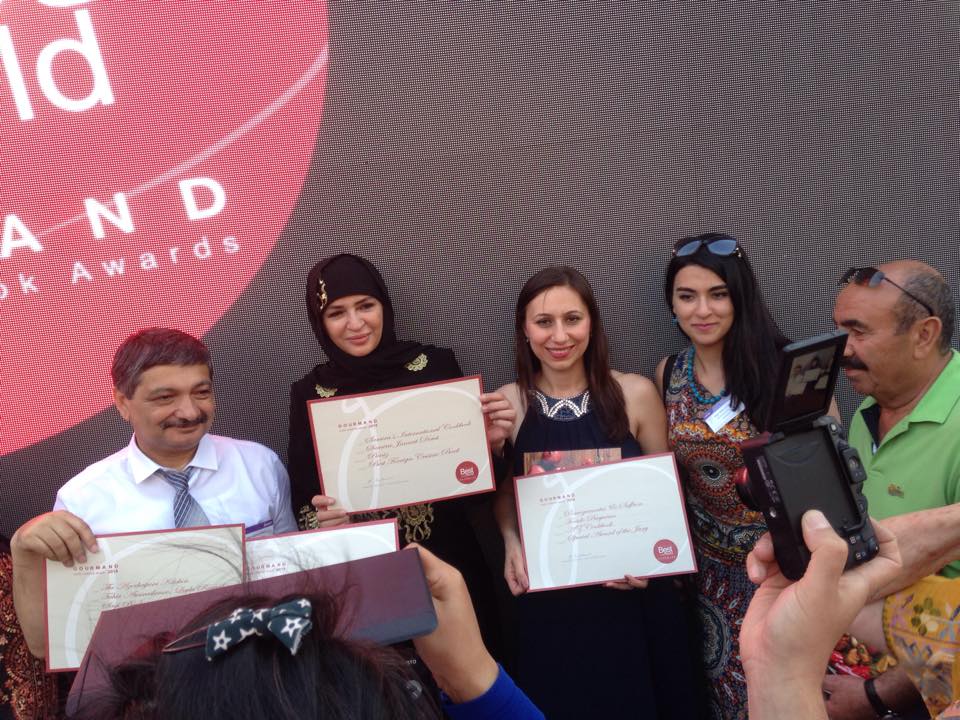 By Nigar Orujova
Delicious Azerbaijani cuisine conquers the world as three books dedicated to the Azerbaijani cuisine won the World Gourmand Cookbook Award in Yantai, China, on June 9.
Over 200 countries have submitted thousands of books to the contest, while the winners became books from 49 countries.
The winners list includes books written by Tahir Amiraslanov, the president of the Azerbaijan National Association of Culinary, in collaboration with Leyla Rahmanova, Feride Buyuran, and Stalic Khankishiev.
Azerbaijani cuisine is ancient, rich and varied, with Eastern European and Western Asian influences.
"The Azerbaijani Kitchen" cookbook by Amiraslanov and Rahmanova gathered over a hundred mouth-watering recipes: from pilafs with apricots, dates and plums, eggplant kebab and baked fish with walnuts to halva and sweet crescent pastries.
Along with stunning recipes, the cookbook has also sumptuous photographs, which make it a treat for food lovers around the world, introducing the exotic and delicious Azerbaijani cuisine.
The book became a winner in the Eastern Europe's World Cuisine section.
A book on Azerbaijani cuisine "Pomegranates and Saffron: A Culinary Journey to Azerbaijan" by Feride Buyuran, Azerbaijani author and food blogger, contains some 200 recipes of traditional and modern Azerbaijani dishes in 15 categories.
The book includes appetizers and salads, soups and stews, vegetarian dishes, pasta dishes, and desserts, all adapted for preparation in a Western kitchen by the author.
The Pomegranates and Saffron is the first comprehensive cookbook on Azerbaijani cuisine published in the U.S. on October 2014, introducing the delicious side of Azerbaijan to Americans.
In Yantai, "Pomegranates and Saffron: A Culinary Journey to Azerbaijan" won the Special Award of the International Jury.
Earlier, the book won the Eastern European cuisine category among the books published in the U.S.
"We did it! My book "Pomegranates & Saffron" won the Best in the World Gourmand Cookbook Award! This is soooo exciting! I still can't believe it :) Thank you so much for your support, friends! We all won!" the author wrote on her Facebook page.
The third winner is a book by popular blogger, photographer, and cooking writer Stalic Khankishiev, called "Kazan, cooking tutorial".
In his blog, the author said: "In fact, this is what I said to my colleagues from around the world two years ago, when I received my first award: you would have heard about the Azerbaijani cuisine!"
By his book, Khankishiev represents three countries, Azerbaijan, Russia and Uzbekistan. The book became a winner in Silk Road Award's Best Authors and Chefs section.
--
Nigar Orujova is AzerNews's staff journalist, follow her on Twitter: @o_nigar
Follow us on Twitter @AzerNewsAz