Vagif Samadoglu, lonely poet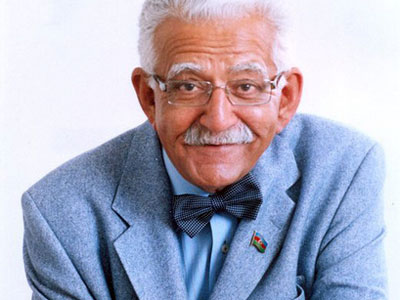 By Amina Nazarli
Azerbaijan's literary community has lost one of its talented writer, playwright, people's poet Vagif Samadoglu at the age of 76.
More than 50 years, Vagif contributed priceless works to the treasure of the national literature. The master of modern literature also brought new ideas to the national literacy treasure of 1960-70s.
With his unique and extraordinary writing, the outstanding poet found his place in modern literature.
Philosophical understanding of the world, man and society played an important role in his works.
Vagif's works reflecting the inner world of the modern man make the people think wisely. His thoughts about the world and time have always been met with great interest by readers.
The great poet's public activity is a graphic evidence of practical realization of ideas, dreams embodied in his literary works. His innate talent and humility was met with appreciation from the public.
Vagif took his talent from his father, Samad Vurgun, the legendary folk poet and the founder of a new school of poetry in Azerbaijan.
However, in poetry he did not repeat his father and chose his own way.
"It is good that I chose my style. Probably, that's why I became the man, who I am. Otherwise, I could not achieve anything in literature," he said in an interview.
Vagif's poems are so beautiful and sometimes so deep that when hearing or reading them, a feeling of loneliness envelopes one like a blanket.
He listened to his inner state and then brought his thoughts in his own manner to the readers. That's why his poetry's lyrical emotion, colors and images distinguished Vagif from other poets.
He could easily be called the "lonely poet." "There is nothing terrible in loneliness," he said. "Creative people, especially writers need loneliness. It helps them to escape from the lair of thoughts, associations, words, sounds and images."
Vagif was not only a poet, but also a comedy playwright, talented musicologist and jazz connoisseur the creativity of whom is characterized by a variety of works he created.
During the 1950s, jazz music was banned in the Soviet Azerbaijan. But the love to jazz gave Vagif no rest. The great poet often recalled how he was watching a film repeatedly at cinema and then immediately ran home to play its catchy music.
His poetry filtered through his songwriting. His works include large number songs' lyrics.
Many of his works have been translated into foreign languages and published in CIS countries, as well as in Turkey and Iran.
R.I.P to the national poet, whose creativity has become a unique page in the Azerbaijani literature.
--
Amina Nazarli is AzerNews' staff journalist, follow her on Twitter: @amina_nazarli

Follow us on Twitter @AzerNewsAz