4 August 2014 17:24 (UTC+04:00)
1 582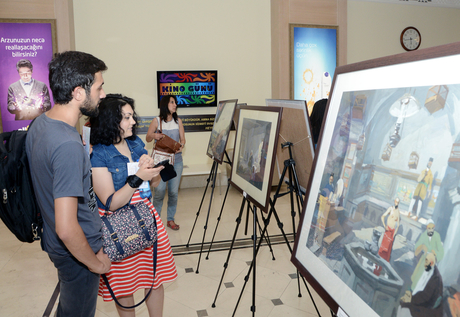 By Nigar Orujova
The Cinema Center Nizami in Baku hosted an event dedicated to the Day of National Cinema on August 2.
Ahead of the ceremony, an exhibition was held by the State Art Gallery. It put on display sketches of scenery and costumes created for Azerbaijani films of different periods.
The exhibits included sketches of the films "Do not be afraid, I am with you", "My seven sons", "In one beautiful day", " Gachag Nabi", "At midnight on the day after tomorrow", "Babak"," The day of execution", "The legend of Silver Lake", "Last night of the year", "Life tests us", and others.
Then the event started with presentation of a video that included material from commemorative evenings, film festivals, premieres and screenings of other activities undertaken in the field of cinema.
Opening the evening, Azerbaijan's Culture and Tourism Minister Abulfaz Garayev noted the country's successes in the field of cinema and stressed the role of the young generation in this field.
It was emphasized that the video demonstrated in the beginning of the event reflected the works done, Azerbaijani films premieres and their participation at various international events.
Development of national cinema is conducted under the state program on developing of Azerbaijani cinema in 2008-2018 years.
Garayev noted that Azerbaijani films cover a variety of topics, but stressed the importance of creation of films with patriotism, past, today and future of Azerbaijani people as the main theme.
"Today at the event, we hold a presentation of the film "Nabat" that focused on the Nagorno-Karabakh conflict. Inclusion of this screen works in the program of the International Film Festival in Venice means that this topic is of great interest not only for us but also for the international community," he said.
Following, an award ceremony was held and the artist Rafis Ismayilov received the National Film Award.
During the event, the winners of the film competition "yenifilm.az", conducted among young people were also announced.
Then the full-length feature film "Nabat" by talented director Elchin Musaoglu was screened. The film was shot in 2014 by the Azerbaijanfilm studio. It is dedicated to Karabakh war, which resulted after Armenia's unjustified territorial claims against Azerbaijan.
The story revolves around a village's residents who are forced to leave their homes because of an ongoing battle. However, there is an old woman who refuses to leave her family members buried in the village.
The film will take part at "Horizons" ("Orizzonti") section that is the second important part after the main competition section of the Venice festival.
Related News